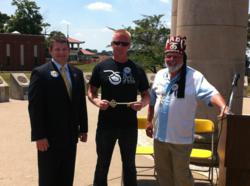 "It's was an absolute honor to receive the key to the City Of Evansville." - Gareth Long RSJT Pilot
Fort Worth, Texas (PRWEB) June 21, 2012
July 8th & 9th allowed hundreds of tri-staters to visit downtown Evansville for the 2012 Shriners-fest. On Saturday and Sunday afternoon those in attendance enjoyed not just the activities on Riverside Drive, but also those up in the air by the Red Steel Jet Team. For this show The Red Steel Jet Team's L-39's were joined by an Extra 330 LC, flown by Jason Newburg and a Cessna Caravan flown by Red Steel Jet Team pilots Gareth Long and Mike Bates. This show was also the introduction of new Red Steel Jet Team Pilot Mike Mangold. Mike's impressive aviation resume added amazing experience to the already respected L-39 team of Zach McNeill and Orestes Lorenzo. The Red Steel Jet Team's 10x20 booth during the event also remained busy with Red Steel Jet Team pilots signing autographs and taking photos with the fans.
The Red Steel Jet Team also sold merchandise throughout the weekend with all proceeds being donated to the Hadi Shriners and all the work they do with children in need. The Red Steel Jet Team donated a total for $3100.00. Also, two lucky children selected by the Hadi Shriners received the chance to be a pilot for the day. Prior to the air show events, Red Steel Jet Team pilot Gareth Long received the Key to the City courtesy of Evansville Chief of Staff Steve Schaffer and the Hadi Shiners Potentate Phil Smith. "It's was an absolute honor to receive the Key to the City. My family moved here in the early 60's from the UK so it's very nice to come back, help children in need, put on a great show and be able to show that the American Dream is and will be attainable for many years to come. We are also very excited about our next show in Cedar Creek, Texas on July 7th. If your in the Austin, San Antonio or even Houston area, please come out and say hello." – Gareth Long RSJT Pilot
Interviews Available: Nationally Famed Pilot Orestes Lorenzo.
ABOUT ORESTES LORENZO
All pilots have war stories and tales of fighting the odds, but none more than Red Steel Jet Team pilot Orestes Lorenzo. Once a Major in the Cuban Air Force, Orestes Lorenzo took his skill and training to find himself a better life by defecting to the United States in his MiG-23BN. And while becoming a U.S. citizen seems like the best outcome, Orestes was not done. Borrowing a twin engine Cessna, Orestes flew under the radar to land on a Cuban bridge along the coastal highway near Havana to rescue his wife and two sons. After his successful trip back to U.S. soil with his family, Orestes has worked throughout the years to create a life, a business and a solid jet pilot history all in line with his version of the American Dream. "I'm extremely lucky to have a second chance in life to do what I love to do. The Red Steel Jet Team made this dream possible and I'm amazingly grateful for sharing the skies with the best pilots I have ever met." – Orestes Lorenzo RSJT Pilot
Red Steel Jet Team Remaining Schedule:
July 7 Cedar Creek Air Show, Cedar Creek, TX
August 3-5 Westover ARB, Chicopee, MA
August 25-26 Offutt AFB, Omaha, NE
September 1-2 Fort Wayne, IN
September 8-9 Liberal, KS
November 2-3 Pensacola, FL
November 10-11 Stuart, FL
BE A SPONSOR:
The Red Steel Jet Team is also looking to partner with local and national business as the Red Steel Jet Team's popularity builds. "The future visibility of the Red Steel Jet Team in front of thousands can be a generous marketing opportunity and our team still has an impressive schedule ahead of us. The excitement of the performances and great personalities we have on the team can all equal out to be great exposure for your company. This unique marketing choice will gain you exposure in front of thousands of current and future consumers. If you're around the Cedar Creek, Texas area July 7th take a drive, come see us fly and see how we work with the air show visitors. Cedar Creek is 30 minutes from Austin, 90 minutes from San Antonio and just over 2 hours from Houston. We hope to see you soon." – Andy Gil, RSJT Marketing & PR.
ABOUT THE RED STEEL JET TEAM:
The Red Steel Jet Team is a combination of 3 sleek aerodynamic L-39 civilian-owned jet aircraft. Experienced military and civilian pilots, representing some of the best pilot talent in the US. The Red Steel Jet Team has as its primary mission to professionally execute complex aerial events safely. With a combined experience of over 35,000 hours, Red Steel Jet Team features the best civilian and military pilots in the air today. With such varied background as the former top secret 4477th Test Squadron, commercial airline pilot, financial services, construction, technology, US Naval helicopter operations and even real estate. This team appeals to people of all walks of life.