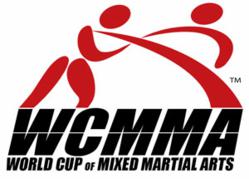 The WCMMA™ is the next level in Mixed Martial Arts.
Ledyard, CT (PRWEB) June 21, 2012
The World Cup of Mixed Martial Arts™ (WCMMA™), is pleased to announce that Foxwoods Resort and Casinos' MGM Grand will be hosting the first ever World Cup competition in Mixed Martial Arts.
On Saturday, September 15, Foxwoods MGM Grand will be hosting the first ever World Cup of Mixed Martial Arts™ as WCMMA™ Team Portugal challenges WCMMA™ Team USA. These two teams will be facing each other in an International Battle Challenge where nations from around the world face one another in efforts to acquire enough points that will earn them an invitation to the WCMMA™ World Cup Championships in 2017 in ROME, Italy. Foxwoods is the first step in the "WCMMA's Road to Rome 2017™".
"I've seen many mixed martial art events, but when it comes to Nation vs Nation competition, that truly transcends anything we have seen, especially when it's for Mixed Martial Arts' very own World Cup. The stakes don't get any higher," said Dan Severn former MMA Super Fight World Champion, and Professional Wrestling Champion.
"The WCMMA™ is the next level in Mixed Martial Arts. Now we're going to begin to see which countries are producing the best MMA Athletes overall," said Don Wilson former seven time Kickboxing World Champion and Action Film Star.
Also that same evening the WCMMA's™ Heavyweight World Title will be on the line as Russian National Sambo Champion Alexey Oleinik will be facing two time FILA Grappling World Champion, Kelly Anundson of the United States.
The undercard of these two featured events will showcase up and coming MMA Athletes who are vying for an opportunity to challenge for a spot on WCMMA™ Team USA.
The event is being held at Foxwoods MGM Grand, the undercard will begin at 7:00 P.M. (EST), with Portugal vs USA starting promptly at 8:30 P.M. (EST) and the Super Heavy Weight World Title is scheduled for 10:00 P.M. For Tickets visit: FOXWOODS.com, or Call 800-200-2882. For more information visit: WorldCupofMixedMartialArts.com.
About World Cup of Mixed Martial Arts™
The WCMMA™ is an international team orientated mixed martial arts organization that produces nation vs nation mixed martial art competition, along with individual title matches. The WCMMA™ every four years holds MMA's very own World Cup Championships, the highest honor in team sports. An invitation to this prestigious event is based on national teams who are successful in qualifying for the honor. National teams qualify by accumulating enough points in international World Cup competition over a four year cycle as they face other national teams.
In addition to producing events the WCMMA™ sets itself apart from many other organization. The WCMMA™ also sanctions events and helps assist qualified independent promoters in their efforts of growing the sport. The WCMMA™ also offers exclusive WCMMA™ franchises to respective nations competing within the circuit, and assist them on building their respective franchise through licensing, television, merchandising, and talent acquisition.
The WCMMA™ is headquartered in Rome, Italy, and with offices in Boca Raton, Florida, and Bronx, New York.