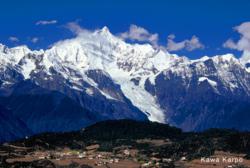 Lhasa, Tibet (PRWEB) June 23, 2012
Tibet Travel Coop, a Lhasa-based travel agency, now offers a 19-day trekking adventure to holy Mount Kawa Karpo. This remote mountain lies on the border of Yunnan and Tibet, and one kora (loop) around the base is said to erase the sins of a lifetime. "Whether you're a Buddhist or not, walking the kora is an epic adventure comparable to no other, TTC said.
The Kora is a 12-stage trek across six high passes with altitudes ranging between 3,000 and 4,800 meters. The 19-day trip includes a few days of preparation and acclimatization, community visits, cultural activities in Shangri-la and Deqin, and one or two days of rest. During the trip, nights are spent camping, with the occasional local homestay.
Kawa Karpo is located near Gyalthang, a region traditionally part of Kham, Eastern Tibet which today is located in China's southwestern Yunnan Province. The mountain is one of the most the most sacred mountains in Tibetan Buddhism, and approximately 20,000 pilgrims visit it annually. Completing the Kora (loop of an arduous 240 kilometer or 150 mile trek) around its base is believed to purify all negative karma, prevent obstacles from blocking your spiritual path and generate good merit.
The Meili Mountain Range has over 20 peaks with permanent snow cover, including six peaks over 6,000 meters (19,700 feet). The highest portion of the range is in the north, although Kawa Karpo is centrally located. The range rises high over the deeply incised valleys to the east and west. The monsoon climate leads to especially unstable snow conditions, and as of now, all of the significant peaks of the range are still unclimbed.
Tibet Travel Coop is a collection of local Tibetan travel agencies and guides working together to promote authentic travel experiences while contributing to the sustainability of host communities and their culture.