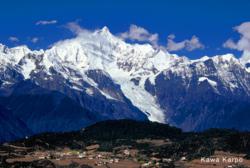 Lhasa, Tibet (PRWEB) June 24, 2012
Tibet Travel Coop (TTC) now offers three kinds of Tibet tour. Depending on their interest, travelers can choose spiritual journeys, cultural odysseys, or adventure trekking. Itineraries can be tailor-made to suit individual requests.
"From Everest to Kailash our trekking adventures take travelers to some of the wildest and unexplored regions of the world and face-to-face with the highest and most sacred peaks on earth," TTC said. "These journeys present opportunities for challenge, cultural awareness, and personal transformation as well as inspiring awe and reverence for the spiritual sanctuaries that these places represent."
TTC offers four different trekking itineraries:
The Ganden-Samye trek is a 5-day trip between two of Tibet's most important monasteries. Crossing over two 5000-meter mountain passes, this demanding trek is also the most popular trekking route in Central Tibet.
Ganden monastery, located about 45 kilometers east of Lhasa, is a monastery of the Geluk order. It was founded in 1409 by Tsongkhapa on the Gokpori ridge of Mount Wangkur. After later additions, the monastery came to support more than 5,000 monks.
The Samye monastery is the most popular destination for travelers in Central Tibet. Surrounded by barren mountains and dramatic sand dunes and approached via a river crossing, the beauty of the monastery and its location tempts many visitors to stay longer than they intended.
The Mount Kawa Karpo kora is a 12-stage trek across six high passes with altitudes ranging between 3,000 and 4,800 meters. This remote mountain lies on the border of Yunnan and Tibet, and one kora (loop) around the base is said to erase the sins of a lifetime. The 19-day trip includes a few days of preparation and acclimatization, community visits, cultural activities in Shangri-la and Deqin, and one or two days of rest. During the trip, nights are spent camping, with the occasional local homestay.
The Minyak Gangkar trek goes up the most famous mountain of the Minyak region, which is southwest of greater Kham and its capital Dartsedo (Kangding). The area is located in modern-day Sichuan Province, China, and is known for its monasteries, ancient murals, and warm and friendly people. This off-the-beaten-track journey is perfect for travelers looking for a unique experience and meaningful interactions with local people and the local culture.
The Everest base camp trek is a 4-day exploration of the famous mountain's base camp and areas around it. Situated at an altitude of 5,208 meters (17,090 feet), the north base camp is used when climbing via the northeast ridge and offers a medium to challenging 3-4 days of trekking. One trekking option is to start at the base camp, hike to the Rombuk Monastery, cross the Ra-chu Valley and finish at the village of Tingri.
Tibet Travel Coop is a collection of local Tibetan travel agencies and guides working together to promote authentic travel experiences while contributing to the sustainability of host communities and their culture.