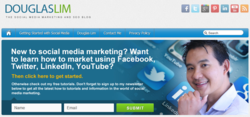 Ottawa, ON (PRWEB) June 21, 2012
Douglas Lim, a topnotch Australian social media evangelist, is the man behind DouglasLim.Org, a blog filled to the brim with practical social media marketing and SEO tips and advices for marketers all over the world. Douglas Lim's steamroller insights on Facebook marketing have garnered much acclaim from his clients both locally, in Australia, and in international shores. We at QuickSeoResults are exceedingly impressed.
As an active player in the SEO industry currently offering free SEO for a 30 day trial, QuickSeoResults found Mr. Lim's views to be highly perceptive of the current and future state of internet marketing. His blogs are not only timely and relevant they are very digestible and executable as well for any business owner who would like to build a brand.
Douglas Lim started a web design company in 2006. From there on up until now, its service has extended to a growing number of thousands of clients in Australia and even in foreign shores. His client base covers a wide spectrum – from both private and large multi-national companies to government authorities. As an impeccable web designer and businessman himself, Douglas Lim easily recognized the potent power of combining excellent design, social media optimization, SEO and branding.
Currently, Douglas Lim shares his philosophy and passion in social media through his blog with more specialized knowledge and industry secrets he divulges through his exclusive newsletter. He believes in the unassailable fact that the internet is a very powerful marketing tool and leveraging social media the right way in order to create a brand for a business entity to elevate it to iconic status is achievable.
Sign up for his exclusive newsletters. We at QuickSeoResults find them very valuable. Douglas Lim is announcing a contest for his newsletter subscribers. Prizes up for grabs are: a free 2 hour consultation on anything related to internet marketing; a free Facebook fan page cover photo designed from scratch by his exclusive designer; and lastly, a free Twitter background to match – very useful for Twitter marketing. One can join by simply signing up for his newsletter, nothing more.
ABOUT
Quick SEO Results is an aggregate of Clicking Labs – a company made up of a diverse team of web professionals with a vision and mission to provide businesses with creative web marketing strategies that will initiate, assert and maintain their online presence for various purposes. Founded in Ottawa, Canada, the company has expanded operations to Cebu, Philippines in early 2011 to better serve its clients.
###