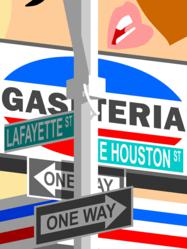 (PRWEB) June 22, 2012
Peter Stanick's new paintings document New York venues that aren't there anymore. From the Red Bar, an artist hangout which included Keith Haring to Gaseteria, New York's iconic gas station. Broadway is a series of pieces which question public perception within an image saturated urban environment. Stanick's interest in the psychological relationship between image, context and history began in the early 80's in the Lower East Side of New York.
Peter Stanick has had numerous solo exhibitions in New York, Chicago, Miami, London, Stockholm, Cologne and Osaka. He is included in the collections of the Metropolitan Museum of Art in New York, Carnegie Museum of Art in Pittsburgh and the Museum of Art in Osaka.
BROADWAY
through July 7 2012
One Art Space
23 Warren Street
New York 10007
(646) 559-0535