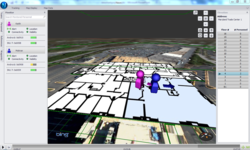 The commercial implications of indoor positioning are even bigger than the commercial aspects of GPS on mobile in recent years
Greenbelt, MD (PRWEB) June 21, 2012
TRX Systems, an award winning developer of indoor location systems, demonstrated NEON – a new personnel location system that locates and tracks personnel operating indoors and in urban areas where GPS is unavailable or unreliable. NEON greatly improves situational awareness and command effectiveness through the use of advanced sensor fusion, time of flight ranging, and mapping algorithms that deliver precise, real time location of personnel indoors. Uniquely, NEON delivers indoor location without requiring pre-existing or networked infrastructure. NEON meets the requirements for event security, training, and other mission-essential applications requiring a highly portable system that can deliver precision indoor location. TRX demonstrated NEON at the 2012 Joint Navigation Conference in a live presentation of the system's indoor location and tracking capabilities.
Key features of the NEON Indoor Location System include:

Real Time Location - Easy to monitor interface showing real time 2D and 3D location of all personnel
Rapid Deployment and Portability - Quick set-up including on-scene map configuration and building rendering
Effective After Action Review - Location and status logging for all personnel supporting training and after action review of events.
Wearing NEON Tracking Units, personnel are located as they walk, crawl, use stairs and take elevators inside buildings where GPS is not available, and in outdoor urban centers where GPS is unreliable. The real time status of personnel is communicated back to NEON Command Software via cellular, Wi-Fi, or radio networks.
Information from MEMS inertial, magnetic, pressure and time of flight-based RF ranging is combined in NEON to deliver precise indoor location information. Neon uses location information to infer site maps dynamically as people move about an area or building. An advanced graphical user interface presents all NEON derived information in an intuitive and effective display to provide comprehensive up to the second situational awareness. The NEON extensible architecture also supports enhanced navigation precision with the addition of rapidly deployable fixed-position nodes. These optional Multi-Sensor Anchor Nodes are small, light weight and may be distributed prior to events in fixed site applications with minimal time and effort. The portability of the NEON system makes it ideal for training exercises, event security, and enterprise deployments where networked infrastructure can be difficult or expensive to obtain.
The NEON sensor fusion and mapping technologies are part of the growing indoor location market segment – using motion sensing and RF technologies to augment GPS, Wi-Fi, and other fixed references in buildings and urban areas. "The commercial implications of indoor positioning are even bigger than the commercial aspects of GPS on mobile in recent years" said Bruce Krulwich, author of Grizzly Analytics' report titled "Indoor Location Positioning: Research Pipelines, Start-Ups and Predictions."
TRX Indoor Location Developments
TRX Systems is focused on the development and commercialization of low-cost technology for personal location applications. "TRX has solved a very difficult problem – delivering location indoors without pre-existing or networked infrastructure. NEON is the first commercially available indoor location technology that fuses sensor information with both time of flight ranging and unique mapping algorithms to deliver accurate and real time location of all personnel operating inside buildings and other locations where GPS is unreliable or unavailable," said Carol Politi, CEO, TRX Systems."
The development of TRX System's NEON Indoor Tracking system has been supported in part by the Defense Advance Research Projects Agency, the Department of Homeland Security Science and Technology Directorate, the Maryland Fire and Rescue Institute, the National Science Foundation, the US Army, and the Technology Support Working Group.
About TRX
TRX Systems delivers precise, infrastructure free, tracking systems that safeguard personnel operating indoors and in locations without access to reliable GPS. The TRX Systems' unique sensor fusion and mapping technology greatly improves situational awareness and command effectiveness by providing precise, real time 3D personnel location in areas that are GPS-denied.
TRX Systems is the recipient of numerous awards including the Innovator Award from the Chesapeake Regional Tech Counsel (CRTC), the Tibbets Award given by the US Small Business Administration for excellence in government research and development, the Gazette Politics and Business Top 53, and the Incubator Company of the Year by the Maryland Technology Enterprise Institute. TRX Systems also won the 3rd Annual Global Security Challenge.
For more information on NEON Indoor Location Technology visit: http://www.TRXSystems.com