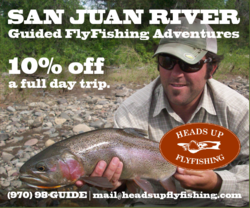 The guide team at Heads Up FlyFishing will provide a memorable day on the water - we emphasize teaching, while working at catching the most fish possible.
Durango, CO (PRWEB) June 23, 2012
The fly fishing guide culture in the Southwest is unique in the respect that most of the San Juan River area guides operate as independent entities with no affiliation to an outfitter -- and the current system can be both positive and negative.
On one hand, prospective anglers are afforded the opportunity to search for the perfect guide service, and it is possible to find some real gems through word of mouth or on the Internet. Still, under an independent guide system, there is hardly any oversight, so the customer takes full responsibility for the outcome of the overall experience. Heads Up FlyFishing operates differently than the status quo, and is proud to offer one of the Southwest region's true guide teams.
"Rest assured that any trip booked with Heads Up Flyfishing will pair customers with a quality guide that we ourselves would be pumped to spend the day with. Because of last minute bookings, or especially busy dates, some other outfitters utilize less qualified guides", says head guide Jeremy Nolan. "If an A+ guide is not available to positively represent our company, we will not just book you with a lesser guide. We take pride in the experience and personality of our guide team and value your investment and won't lessen it with sub par guides."
There are advantages to booking a San Juan River or a Colorado fly fishing trip through Heads Up FlyFishing. This established Durango, CO based business works with two experienced guides and a roster of guide buddies, who each bring unique skills to the table and all of them have different personalities and fishing styles. In most cases, Heads Up Flyfishing will pair anglers with the guide that appears to be the best fit, unless the customer requests a specific guide for the trip.
"We will do anything and everything to make sure that our clients have the best possible day out on the water", says Nolan. "Heads Up FlyFishing is a business that prides itself on providing top-notch customer service, so prospective customers can rest assured that when they utilize our guides, they will be treated exceptionally well, while reaping the benefits of fishing with an experienced sportsman. Our guide team is the epitome of class."
Most anglers who spend any amount of time studying or fishing the San Juan River Basin trout fisheries understand that water releases will dictate where the best fly fishing conditions are on any given day. Consistently effective fly fishermen are always adjusting their flies and techniques based on the current flow rates. The guide team at Heads Up FlyFishing understands how to locate productive fly fishing opportunities on all water conditions, and several members of the guide staff have added drift boats to their equipment arsenal. Although this type of vessel can be a hindrance during extremely high water, there are times when a drift boat can be of real benefit. During periods of no power generation, this type of craft is perfect for easily navigating shallow shoals. A drift boat opens up wading access to less-pressured stretches of river, and it is very easy to escape the walk-in crowds with a float-and-wade approach. When Navajo Dam is releasing moderate amounts of water, the San Juan River offers ideal float-fishing conditions, and a drift boat is the perfect way cover plenty of water Please let the staff at Heads Up FlyFishing know if you are interested in fishing from a drift boat (if it is possible) so that the proper guide will be scheduled. Daily fishing options are always discussed on the morning of a guided trip, and if flows are too high for a requested drift fishing excursion, other alternatives will be explained and/or offered.
About HeadsUpFlyFishing:
Heads Up FlyFishing is proud of our diverse guide team. We are the only service in the Southwest that offers their customers a choice of fly fishing styles, and there is a guide on our team to match just about any angler's personality. Making the most out of a day on the San Juan River can be difficult without help, so finding the right guide often makes the difference between frustration and all-day action. The guide team at Heads Up FlyFishing will provide a memorable day on the water - we emphasize teaching, while working at catching the most fish possible.
Below is a brief biography of each guide that explains their experience, fishing style and demeanor. Feel free to direct any questions you may have for specific guides through our main email address.
Jeremy Nolan
Years of experience on the fabled waters of the San Juan River has landed Jeremy in TROUT magazine, as well as made him one of the most respected guides in the area. Jeremy guides with an artistic flair and a liberal amount of bunny strips on the Flash Fry to chase down BIG trout. Drop him a line at jeremy(at)headsupflyfishing(dot)com
Ryan McRorie
28-years of flyfishing experience tops Ryan's list of credentials as a guide. Plus he has fished across the globe: Iceland, Canada, Ireland and Argentina's Patagonia territory. He guides like he lives: pursuing all that life has to offer without being tied to one specific pattern. Drop him a line at mail(at)sanjuanriverguide(dot)com
At Heads Up FlyFishing, we recognize that there are many choices when it comes to hiring an expert San Juan River guide. Let us show you how fishing with one of our guide team members offers the most productive Southwestern fly fishing experience available. We only work with the region's most talented guides, and every member of our staff possesses class, determination and patience. Heads Up FlyFishing is committed to working with our customers to ensure that they get the most out of their day on the water. Whether you are planning your first trip to the San Juan River or you visit the Durango, CO area every year; come experience a memorable day of fishing with a member of the Heads Up FlyFishing guide team.