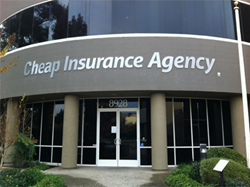 Sacramento, CA (PRWEB) June 22, 2012
There's some movement happening in the car insurance industry, and it's coming from Sacramento, California. CheapInsurance.com, an insurance brokerage founded in 1974, is developing new online strategies to help drivers across the United States decrease their car insurance premiums.
CheapInsurance.com has developed partnerships with top-rated insurance companies across the United States. These partnerships have made it possible for CheapInsurance.com to provide high quality, affordable insurance to more consumers.
CheapInsurance.com has also created a new web portal and quote engine. This new portal and engine have allowed CheapInsurance.com to provide insurance quotes quickly and efficiently. These partnerships, paired with the new quote engine, have led to greater customer savings. This year two out of every three shoppers at CheapInsurance.com have reported they have saved money on their premiums as a result of this new strategy.
This additional online resource provides yet another destination for drivers to get low-priced auto insurance quotes in an industry where premiums continue to decrease overall.
"It gives me great pleasure to have reinvented ourselves to become a true internet company," said President of CheapInsurance.com, Fausto R Bucheli Jr. "I am also excited about our marketing strategy for the future, as this phase is only growing."
CheapInsurance.com is not only proud of their low insurance quotes, but also their overall customer satisfaction, which is currently an astounding 98%.
"Customer satisfaction is what we strive for," continued Fausto R Bucheli Jr. "We offer great rates and quality products while saving our customers money. It makes me proud to be able to offer this in today's economy. With today's technology it has never been easier for us to help people find cheap insurance."
About CheapInsurance.com
CheapInsurance.com offers quality insurance solutions for those seeking personal auto, commercial, trailer, cycle, watercraft, homeowner's, and renter's insurance coverage. Cheap Insurance is an insurance solutions broker with access to hundreds of reputable insurance companies. They offer value-based insurance plans for those with challenges on their driving records, as well as budget-friendly payment options. Cheap Insurance currently provides three ways to purchase insurance. These include online, over the phone or by fax, or in person at their corporate office. The company is headquartered in Sacramento, California. Learn more at CheapInsurance.com and follow Cheap Insurance on Twitter @cheapinsur.