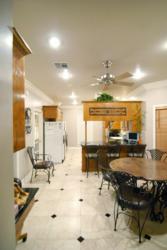 they are now offering a full limited lifetime warranty for the rated life of their
lamps.
(PRWEB) June 22, 2012
LA LED, Louisiana manufacturer of LED lighting systems, recently announced they are now offering a full limited lifetime warranty for the rated life of their lamps. The warranty is being offered on the most popular versions of their LED lights. Since it's founding, LA LED has leveraged its position in the LED industry to become one of the most reliable and trustworthy LED companies in the United States. After more than seven years of industry experience, LA LED determined that the industry was lacking a company willing to stand behind their products by offering a truly strong warranty.
In making the warranty announcement, Robert Owens, President of LA LED, said, "To prove that we really are a different kind of manufacturer, we've decided to take a step ahead of the rest of the LED industry to prove that we build quality products at a reasonable price, and most importantly…guarantee that our customers won't be stranded with a company only offering a 3 – 5 year warranty on their products."
LA LED has a long history of providing lighting to some of the largest hotel chains in the United States, Stadiums, Super Bowl XLV and ESPN, the oil industry, commercial properties, and residential properties across the globe. The company not only provides the best warranty in the industry today, but offers some of the longest lasting, most attractive and brightest LEDs available to all manner of businesses and residences. Lighting designers and customers throughout the United States have the flexibility and control to optimize any lighting environment for cost and efficiency while meeting all industry standards and environmental design requirements.
With Corporate Headquarters in Lafayette, Louisiana, LA LED is constantly expanding its direct project market managers and distribution centers. With its growing list of large clients here in the United States as well as Canada and Brazil, the expansion offers more efficient coordination between sales and project managers.
Robert Owens, President of LA LED, continued, "We are committed to superior quality and the highest level of performance as a leader in today's solid-state lighting industry and will continue to make sure our customers reap the benefits."
For additional information and to inquire about purchase or lease, contact LA LED at 888-347-9295.