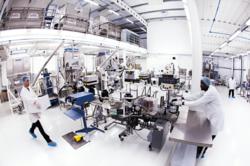 To make a protein shake taste this good while maintaining a good nutritional profile is no easy task. We've spent a considerable amount of time and effort perfecting our new flavour
Brighton, East Sussex (PRWEB UK) 23 June 2012
The improved formula makes use of instant mixing egg white protein in conjunction with pure micro filtered micellar casein and undenatured whey protein.
Julian Wright, Marketing Director explains, "Protein blend products are becoming very popular because they can be used at nearly any time of the day. However many brands are choosing to make their protein shakes with lower grade proteins like Soy or Rice because the price of premium proteins such as egg and whey protein are skyrocketing. At Reflex we have an ethos that must be followed – to make the best product on the market, to be the market leader and to make that product to very rigorous quality control standards. As a result Peptide Fusion contains the highest amount of protein compared to the competition and on top of that it's the only protein shake to contain a guaranteed split of 33 % Egg protein 33% Micellar Casein and 33% Whey Protein, its simply unbeaten and you get exactly what you pay for."
Coinciding with the new improved Peptide Fusion sees the release of a new flavour that has been developed over a number of months. Choc Peanut was received with overwhelming praise at the recent Body Power Fitness show where thousands of athletes got the opportunity to sample the new flavour first hand.
Martin Eastwood, Head of Research and Quality Development, adds, "To make a protein shake taste this good and not sacrifice nutrition is no easy task. We've spent a considerable amount of time and effort perfecting this new flavour and have resulted in the use of even higher quality whey proteins to ensure we meet our very high label claim of 78%. We have the results to prove it too."
Peptide Fusion protein powder is made in Reflex Nutrition's state of the art Reflex Science Park here in the U.K, where every single process of manufacture is carefully and rigorously controlled. It's one of the main reasons why Reflex Nutrition is so well respected within the industry and why consumers remain very loyal to the brand.
The new flavour and improved formula goes on sale early July, perhaps the best news is the fact that the retail price remains unchanged.