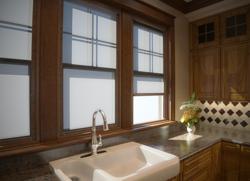 Prestige retractable screens are the perfect match for custom wood windows – combining quality, craftsmanship and superb attention to detail
Abbotsford, BC (PRWEB) June 26, 2012
Homeowners who have custom wood windows can now enjoy protection from insects without spoiling their windows – or their views – thanks to new Phantom Prestige retractable screens.
Prestige retractable screens blend seamlessly with the interior finish and profile of custom wood windows and disappear out of sight when not needed to restore the view. They are available in seven wood species, as well as being completely stainable, to ensure a near perfect match to the window.
Suitable for most custom wood windows types including casement, French casement, awning, double-hung, tilt & turn and horizontal gliding windows Prestige retractable screens are mounted to the inside of the window frame and slide vertically from the top down. They are easily operated by the ergonomic handle to allow homeowners to pull the screen into place when insect protection is needed.
The housing for Prestige retractable screens is manufactured from extruded aluminum to which a stainable wood veneer is applied. A matching solid wood slidebar complements the housing and ensures that the screen is as perfectly matched to the custom wood window as possible.
Prestige retractable screens feature BetterVue mesh which delivers excellent protection from insects and preserves outdoor views – even when the screen is pulled in place. The screens also include a mesh retention system to prevent the mesh from blowing out in light breezy conditions.
To make window cleaning simple Prestige retractable screens feature removable tracks in the side jambs which makes it possible to tilt the sash of many tilt-to-clean windows for easy cleaning.
"We understand that quality doesn't need to shout", says Ron Somers, vice president sales and marketing at Phantom Screens. He adds: "When you've invested in beautiful windows, you don't want to compromise them with standard insect screens. Prestige retractable screens are the perfect match for custom wood windows – combining quality, craftsmanship and superb attention to detail."