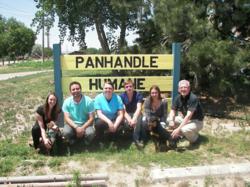 "Through FundingFactory's Recycling Rumble program, we were able to make a difference in the lives of all the animals that come to our shelter," said Heidi Anderson, Operations Director at the Panhandle Humane Society.
Erie, PA (PRWEB) June 21, 2012
More than 1144 total schools and nonprofits nationwide rivaled for the Top Recycler title during the "Recycling Rumble," a friendly competition hosted annually by FundingFactory ®, the nation's largest fundraising-by-recycling program for schools and nonprofits. From March 13 to May 31, FundingFactory participants competed to recycle the largest quantity of e-waste.
FundingFactory matched the competing organizations according to their comparable recycling rate. Throughout the competition, participants collected and shipped used inkjet and toner cartridges, cell phones, MP3 players, digital cameras and GPS devices to FundingFactory, earning one point for each qualifying item redeemable for cash or new technology.
The more than 566 winning schools and nonprofits that overcame their opponents in each rumble match-up earn a 25 percent fundraising bonus. Six organizations ended up in a tie with their opponent. The top recycler overall, Panhandle Humane Society of Scottsbluff, Neb., earned 621 points and will receive a new Apple® iPad® for its organization.
"Through FundingFactory's Recycling Rumble program, we were able to make a difference in the lives of all the animals that come to our shelter," said Heidi Anderson, Operations Director at the Panhandle Humane Society. "We are so blessed to have received such an outpouring of support from our local community to help us win this contest. We plan to use the iPad® to communicate real time information on lost pets to the community, as well as to help us provide quality care to all of the animals in our facility."
Other top recyclers in the contest include Quincy Notre Dame High School of Quincy, Ill. (537 points), Garth School of Georgetown, Ky. (462 points), Marshalltown Area Catholic School of Marshalltown, IA (453 points), and Wabeno Elementary School of Wabeno, Wis. (382 points). Collectively, these top five recyclers raised more than $5,683 for their organizations in just two months and saved 2,455 recyclable items from landfills. Out of all rumble participants, $106,340 was raised and 55,136 items kept out of landfills.
"We are extremely grateful to have had the support and backing from our local community throughout this entire eco-friendly competition," said Amy Stefanovic, a teacher at Wabeno Elementary School, Wabeno, Wis. "Our students, parents and local community members worked together to recycle as much as possible, and earn classroom technology like digital cameras and a color printer. This technology will undoubtedly enhance the learning environments for our students, and it's great that our small community has recognized the benefits of this recycling program for our school."
"The 'Recycling Rumble' enabled participants to earn funding for their schools while helping the environment at the same time," said Sean Michaels, president of FundingFactory. "Oftentimes, we see that people want to recycle and understand the benefits, but don't know how to recycle or where to send their recyclables. This contest helps build awareness of local recycling programs that support schools and nonprofits, while demonstrating that it can be easy to be green."
The FundingFactory program is free, and enables schools and nonprofit organizations to exchange electronic waste for cash or points redeemable for new technology or classroom products. Schools, nonprofit organizations, churches, and other groups can register for free at http://www.fundingfactory.com/register.
To learn more about the 2012 Recycling Rumble winners, and the positive impact of fundraising-by-recycling, visit Facebook.com/FundingFactory and YouTube.com/FundingFactory.
About FundingFactory
Since its inception in 1998, FundingFactory has provided more than $26 million in funding to schools and nonprofit organizations across the United States, and saved 21 million pounds of waste from landfills. FundingFactory is a free recycling fundraiser for schools, nonprofits, and charities. Participating organizations can earn points redeemable for cash or products by recycling empty printer cartridges, cell phones and other small electronics from their communities and supporters. FundingFactory is a program of Environmental Reclamation Services, LLC, a Clover Technologies Group company. Headquartered in Erie, Pa., ERS is an R2 "Responsible Recycling", ISO Certified, Zero Landfill Initiative company with more than 99 percent of its incoming material reused or recycled in 2011.