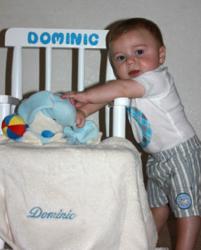 Brooklyn, NY (PRWEB) June 26, 2012
Babygiftcreations.com, the leading designer and retailer of unique baby gifts and infant accessories, is pleased to announce that the winner of the May 2012 Babies R Gifts™ Photo Contest is an adorable and photogenic six month old baby boy from Fort Mohave, Arizona named Dominic. Company founder, Phyllis Gordon S'Dao, confirmed that Dominic received 192 votes, the most among 40 contestants.
Ms. S'Dao congratulated Dominic's family on winning and informed them that a Personalized Rocking Chair prize had been customized and sent to Dominic. His mother was excited to hear the news confiding: "I entered the contest because I really wanted to win one of those beautiful Rocking Chairs for Dominic and now I can't believe he has one". In addition to winning the rocking chair prize, Dominic's photo is being featured on the homepage of babygiftcreations.com
The Babies R Gifts Photo Contest™ is sponsored by babygiftcreations.com as a way of adding to the joy and excitement of having a newborn baby. Ms.S'Dao pointed out that new parents love the contest because it gives them an opportunity to "show-off" a photo of their baby while competing to win a desirable prize within the context of a fun online contest.
The Babies R Gifts Photo Contest™ is free to enter and no purchase is required. Parents or grandparents may enter a baby up to 18 months of age simply by uploading a photo and tweet at babygifrcreations.com. Contests begin on the first day of each month and end on the last day. Votes are cast by site visitors exclusively at babygiftcreations.com. To heighten excitement, real time vote totals are displayed for each contestant throughout the month.
About Babygiftcreations.com
Babygiftcreations.com is a premier e-retailer of unique baby gifts, baby gift baskets, baby shower gifts, diaper cakes, and personalized baby gifts. Due to extensive USA based manufacturing capabilities, babygifcreations.com is able to offer the largest collection of customized and personalized baby gifts. It prides itself on having the widest available resources to handle special requests, as well as the friendliest and most knowledgeable customer support team of any online baby gift boutique.
In addition to babygiftcreations.com, company products are sold online by select e-commerce boutiques as part of either a Drop Ship or Private Label program. Products are also sold by brick & mortar baby boutiques, hospital gift shops, and florists under the Silly Phillie® brand.
The company is responsible for creating such baby gift classics as Baby Hoagies™, Baby Cakes™, Baby Bouquets™, Welcome Wagons™, and many others.
To celebrate Dominic's win, babygiftcreations.com is offering a limited time 25% discount on all orders placed before July 31st. Use the Promotion Code DOMINIC at checkout when purchasing a product on babygiftcreations.com to take advantage of this offer. Orders are usually shipped withing 48 hours, even for personalized baby gifts. The company is closed for vacation from July 2-10.
Please email business inquiries to Phyllis Gordon S'Dao (phyllis(at)sillyphillie(dot)com) or call toll free (877.347.5128).