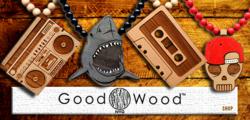 It was only a matter of time until King Ice teamed up with Good Wood NYC
Los Angeles, CA (PRWEB) June 23, 2012
King Ice, a leading online hip hop jewelry retailer, partners with Good Wood NYC to introduce its unique line of wood jewelry and accessories. Good Wood of NYC combines both art and fashion to produce intricately engraved wooden jewelry and accessories. The wood line includes popular designs such as the Jesus piece, Big Boombox, and Cassette Tape necklaces.
Good Wood originates from Brooklyn, New York where pieces are still created and designed. Each Good Wood NYC piece is sanded, painted and assembled by hand to ensure strict quality measures. The jewelry designer is commonly known for its classic pendant, the Jesus Piece. The Good Wood Jesus Piece exploded onto the scene after photographs of celebrities were spotted wearing the necklace. Celebrities including Snoop Dogg, Nas, Justin Bieber, and LeBron James fueled demand for the products after consistently wearing them in public.
"It was only a matter of time until King Ice teamed up with Good Wood," said Derek Belay of King Ice. "Customers have been asking for the line for some time now. We're happy to bring our fans the originators of wooden jewelry and accessories. Their designs are remarkable and are only getting better."
Good Wood NYC produces a variety of wood jewelry and accessories including necklaces, bracelets, earrings, phone cases and more. The designer's latest creations feature vibrant colors to accentuate original art work. The company has collaborated with popular brands such as Nike, DC Shoes, and Famous Stars and Straps to develop custom pieces. The company will also custom make practically any design into a pendant or bracelet.
All Good Wood products available at King Ice come with a 90 day warranty. For Good Wood jewelry and other wooden jewelry visit KingIce.com or call 1-877-546-4423.
About King Ice
King Ice is a leading online retailer of men's hip hop jewelry, urban apparel and accessories. King Ice offers iced out pendants, chains, rings, earrings, watches and much more. For the latest swag visit KingIce.com or call 1-877-546-4423.