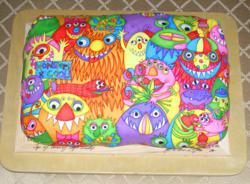 We love making kids happy with fun fabrics.
Eugene, Oregon (PRWEB) June 23, 2012
Lap of Luxury Lap Desks takes pride in the quality of fabrics used on their lap desks. They also offer two sizes of desks, the smaller model with children's needs in mind. Adding fun fabrics from Quilting Treasures and Cranston Village to a fine selection that includes fabrics from Kona Bay and Bold Over Batiks allows parents and kids an even larger choice of color and style.
Quilting Treasures is a 200-year-old company with a reputation for excellent fabrics, service, respect for the environment, versatility and expertise. They are currently involved with Project Linus and have created a wonderful line of "Peanuts" fabrics. Cranston Village prides themselves on being a community leader, supporting local charitable efforts and uniting the talents of quilters, crafters and sewers.
"Supporting the businesses of these fine fabric makers and distributors helps my business too" says company owner Kathleen Hogan, "My customers include children and they like fabrics with bright colors and cool designs."
Lap of Luxury Lap Desks occupy a unique niche in the on-line market for lap desks. Each desk is meticulously hand crafted with high attention to detail, quality materials, and a wide variety of excellent woods and fabrics. The two sizes make it possible for children and adults to find what they want. The varieties of wood available for the ½" desk top include walnut, cherry, maple or bamboo. Matching one of these tops with either the new fabrics or the old enables our customers to find exactly what they want. Offering customers the opportunity to create custom widths, depths, and fabrics also sets this company apart.
Since 2005, Lap of Luxury Lap Desks has made lovely and functional products that allow users to work away from a table or desk with excellent support.