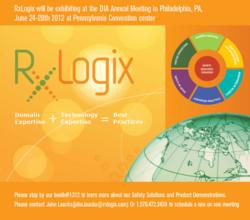 Aliso Viejo, CA (PRWEB) June 22, 2012
RxLogix (http://www.rxlogix.com) will be formally introducing two new software solutions, PV Central and clinsafety, at this year's DIA Annual Meeting. PV Central delivers key compliance and productivity metrics in real time to support executive decision making. clinsafety delivers substantial and real cost savings by bridging the gap between universal electronic data capture systems for clinical trials and drug safety systems using standards based integration. You can find out more about these products in a previous article regarding RxLogix.
The DIA 2012 Annual Meeting begins on Monday June 25, 2012 through June 27. RxLogix is pleased to be a significant exhibitor at DIA this year. Several members of the global executive management team will be in person at the RxLogix's booth, 1312, and look forward to meeting with you. RxLogix is growing exponentially and working globally with several very large and smaller clients. Our delivered services continue to be acknowledged by our clients as 2nd to none, and have provided significant value in return, including our key leadership role on one of the world's largest safety system implementations that has recently gone live.
The RxLogix team would be pleased to set up a time to demonstrate their world class solutions with you while at DIA, in addition to discussing our services. Please reserve a time/date slot by contacting (john.loucks(at)rxlogix(dot)com).
About RxLogix Corporation
RxLogix Corporation is an experienced team of global Safety and Risk Management experts offering consulting and strategic software solutions. RxLogix has extensive business, domain, regulatory, and IT experience consulting with global leading biopharmaceutical, medical device, and CRO's. In addition, RxLogix provides strategic software solutions for executive management and key integrations that enhance client productivity while lowering costs.
With a global staff of 70+ and headquartered in Aliso Viejo, California, RxLogix has offices in the United States, Europe and Japan. To learn more about the company's products and services, please call +1 570 472 3459 or e-mail info(at)rxlogix(dot)com.