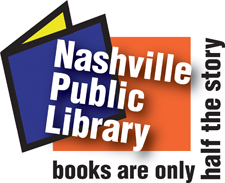 Nashville, TN (PRWEB) June 23, 2012
Random House had recently announced a spike in ebook costs to public libraries. Four other large publishers (Penguin, Hachette, Simon & Schuster and MacMillan) refuse to sell any of the ebooks to public libraries.
"We believe our new library e-pricing reflects the high value placed on perpetuity of lending and simultaneity of availability for our titles," stated Stuart Applebaum, a Random House spokesperson.
Nashville Public Library Responds
Nashville Public Library contends that the longevity of a public library book is related more to a book's continuing popularity rather than its condition.
"We rarely purchase replacement copies of worn-out or damaged items as demand for newer titles often supplants demand for older publications. Given our budget restrictions, we need most of our funds spent on newly published books and other formats," stated Noel Rutherford, collection development manager at Nashville Public Library
Nashville Public Library also refutes the assertion of simultaneous availability.
"All of our ebooks check out to one user at a time, just like our print material. Users place holds on items that are checked out and simultaneous access is not an option for ebook titles," explained Rutherford.
A Viable Marketing Tool for Authors
Nashville Public Library has proven to be a viable marketing tool for authors through its Salon@615 author talk series, Night at the Library events, book clubs and more. Parnassus Books, founded by Ann Patchett, is the onsite bookseller for the author talk events which consist of a discussion in the auditorium followed by a book signing. Attendance has spiked for author events within the last year. The next Salon@615 author is Eoin Colfer, discussing his Artemis Fowl trilogy on July 18 at Nashville Public Library.
Celebrities have shown their support of the library and ebooks. Singer/songwriter Mat Kearney provided a YouTube PSA on his love for the library and ebook downloads. http://www.youtube.com/watch?v=2FsX1jq4edI
For more information on Nashville Public Library, visit http://www.library.nashville.org.
###