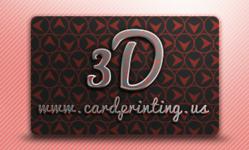 (PRWEB) June 24, 2012
Tele-Pak offers a true sensory experience with print that literally jumps off the page with this innovative and new printing method. Tele-Pak's 3D printing process is a raised polymer coating that is environmentally friendly and available in different densities. This process also differs tactilely and visually from other "raised printing" processes, such as thermography and embossing.
Another important and exciting aspect of Tele-Pak's raised printing services is that each card can be unique regarding art and variable data. Tele-Pak's three-dimensional printing can be produced up to a height of 250 microns (10 mil). Other printing services and features that will enhance project creativity is their endless array of colors and patterns, including glitter coating, matte or high gloss as well as the innovative lenticular and holographic images.
Those that would like to take advantage of this state-of-the-art printing process can contact Tele-Pak directly at salessupport(at)tele-pak(dot)com. Samples are also available upon request at the same address.
CardPrinting.US is a part of the Tele-Pak CardPrinting.US Inc. family of web sites for plastic printing needs. Tele-Pak is located in Monsey, NY has been a worldwide leader in the plastic printing industry since 1996, producing all kinds of plastic cards: gift cards, plastic key tags, scratch cards, phone cards, fundraising cards, membership cards, loyalty cards and point of sale activation (POSA) cards. Corporate information can be found at http://www.tele-pak.com.