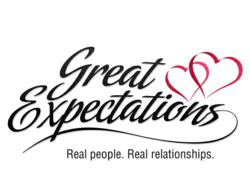 "We are a higher quality dating service, but we're also about customer service. Great Expectations wants to show the public that we are here for you. We want to fit your schedule."
Phoenix, AZ (PRWEB) June 22, 2012
The Great Expectations Phoenix Center announces their first ever Open House held on July 7th for all potential clients.
Recently announced new Director, Tammy Smith, says, "For one day only, non-members are invited into our Phoenix Center to come see what Great Expectations is all about." This is the first time Great Expectations has opened their doors to non-members and is one of the many changes Smith has implemented for the center; previously Smith has been quoted saying, "I have a lot of big plans for this location to be successful and I have already started implementing them with my team."
Smith explains that the Open House is meant to show a more accessible Great Expectations. "We are a higher quality dating service, but we're also about customer service. Great Expectations wants to show the public that we are here for you. We want to fit your schedule."
Great Expectations doors will be opened 9am-4pm on Saturday, July 7th (Fourth of July weekend) for any and all potential members to come learn about Great Expectations' services and find out if the service is right for them.
"As soon as a potential client walks through the door, the staff will be catering to them by giving tours of the center and answering any questions that might arise. The goal is to give Phoenix singles an idea of how Great Expectations can work for them personally. Singles will be streaming in and out of our center all day," said Smith.
In addition, everyone that attends the Open House will have the opportunity to participate in a drawing for a variety of different prizes that value from $30 to over $100 including a free membership.
Smith adds, "If you're single and not doing anything for the Fourth of July weekend then come into Great Expectations. You are not committing to anything, not even an appointment; you truly have nothing to lose!"
The open house will be held July 7th only from 9am to 4pm at the Great Expectations Phoenix center located at:
5635 N. Scottsdale Rd. #190
Scottsdale, AZ 85250
If you have any questions about Great Expectations or the details for the open house you can call 480-941-0500.
Smith and her entire Phoenix team look forward to showing you how to improve your dating life.