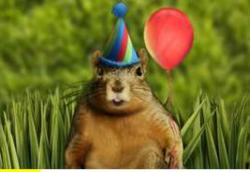 Cleveland, OH (PRWEB) June 22, 2012
There are a hundred ways to say "Happy Birthday!" Cakes and candles, balloons and parties, but the most important thing is to let that special someone know just how special they are. Talking ecards from Americangreetings.com, an online division of American Greetings Corporation (NYSE: AM), are a great way to send birthday greetings with a unique, personal touch.
Talking ecards come in a wide variety of designs just waiting to be personalized. These ecards are unlike any other kind of birthday card. The sender has the opportunity to create a personal birthday greeting spoken in their own words.
The first step is choosing which cute animal or quirky character will deliver the message. Will it be a playful kitten or puppy? How about a cheeky squirrel or a clown with your personal photo as the face? With so many choices, there is sure to be one that will tickle the recipient's funny bone!
There are two options for creating the audio message. The first is to type it into the text box and choose from the variety of preset voices. The second option is to record the message over the phone, following simple online instructions. This allows all kinds of possibilities, from singing messages to silly voices.
Talking ecards are fun to create and easy to send, so there is no need to save them for only special occasions. With such a wide variety of designs to choose from, these talking ecards can deliver any kind of greeting or message with a smile.
Talking ecards from americangreetings.com can be sent by email, or conveniently posted as a message on Facebook.
About American Greetings Corporation
For more than 100 years, American Greetings Corporation (NYSE: AM) has been a creator and manufacturer of innovative social expression products that assist consumers in enhancing their relationships to create happiness, laughter and love. The Company's major greeting card lines are American Greetings, Carlton Cards, Gibson, Recycled Paper Greetings and Papyrus, and other paper product offerings include DesignWare party goods and American Greetings and Plus Mark gift-wrap and boxed cards. American Greetings also has one of the largest collections of greetings on the Web, including greeting cards available at Cardstore.com and electronic greeting cards available at AmericanGreetings.com. In addition to its product lines, American Greetings also creates and licenses popular character brands through the American Greetings Properties group. Headquartered in Cleveland, Ohio, American Greetings generates annual revenue of approximately $1.7 billion, and its products can be found in retail outlets worldwide. For more information on the Company, visit http://corporate.americangreetings.com.