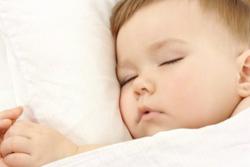 Parents can help their children become independent sleepers by eliminating sleep props, developing a good routine for bedtime and nap time and being consistent.
Winnetka, IL (PRWEB) June 22, 2012
In a June 2012 study published in Pediatrics, researchers concluded that both sleep duration and number of night wakings were correlated more with shared environment than with genetics. Baby and toddler sleep expert, Kim Schaf, M.A.T., agrees that parents play a large role in promoting healthy sleep habits for their children.
In this study, parents of 1,931 sets of 15-month old twins completed a modified version of the Brief Infant Sleep Questionnaire. Participants answered questions regarding duration of sleep for nighttime and nap time, as well as number of wakings during the night.
Researchers found that sleep duration during the nighttime was influenced more by shared environment (66%) than genetics (26%). Results regarding daytime sleep duration showed that shared environment (57%) affected nap duration more than genetics (37%). Frequency of night wakings was also more affected by shared environment (55%) than genetics (40%).
The results from this study suggest that further examination on the topic is warranted to discover the principal variable environmental factors that could improve quality of sleep.
Chicago-based certified baby and toddler sleep consultant, Kim Schaf, agrees that parents influence sleep habits for their children and can start teaching them healthy sleep habits from an early age. "Parents can help their children become independent sleepers by eliminating sleep props, developing a good routine for bedtime and nap time and being consistent," says Schaf. "Teaching healthy sleep habits early on is one of the greatest gifts you can give to your child and it's never too early to start."
Sleep affects health, growth, development, mood, learning, behavior and performance, and better, more consolidated sleep can have a positive effect on each of these areas. Children (and adults) who have good quality consolidated sleep every night have increased daytime alertness, creativity, memory recall, and motivation and are in a better mood overall. Parents are also rewarded with a pleasant bedtime, reduced or eliminated night-wakings, and an age-appropriate wake-up time in the morning when their child has learned healthy sleep habits.
For more information about promoting healthy sleep habits for children, parents can reserve a free 15-minute evaluation to talk about their current sleep issues and discuss solutions on how to resolve these sleep problems by contacting Kim Schaf at (847) 386-6285.
About Sleep Training Solutions
Sleep Training Solution s, a leading infant and child sleep consulting company based in the Chicago area, provides education and training to parents and caregivers in the Chicago area and across the country to resolve sleep problems in infants and children. Sleep problems that can be addressed include issues with bedtime, night wakings, naptime and early rising in infants and children up through age eight through private consultations and group seminars. A free 15-minute telephone evaluation is currently being offered to parents to discuss child's sleep situation and a free report on helping baby sleep through the night is available on the website. Find us on Facebook and Twitter.
About Kim Schaf
Kim Schaf is the Founder and President of Sleep Training Solutions and the Midwest Regional Director (USA) for the Association of Professional Sleep Consultants (APSC). After completing an extensive training and mentoring program with one of the world's most respected child sleep authorities, she became a Certified Infant and Child Sleep Consultant and offers expert guidance on behavioral sleep issues to parents across the country. She also provides community education on child sleep issues, leading workshops at preschools, day care centers, pediatrician offices and new mom groups. Kim has a Master of Arts degree in Teaching and is a member of the American Sleep Association and the North Suburban Children's Business Network. She lives in a northern suburb of Chicago with her husband and two small children, both of whom are excellent sleepers.
For more information
Contact: Kim Schaf, M.A.T.
(847) 386-6285
Kim(at)SleepTrainingSolutions(dot)com
Photo Credit: © Serhiy Kobyakov | Dreamstime.com
###