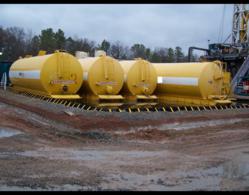 Containment you can count on, compliance you can trust.
Meridian, ID (PRWEB) June 26, 2012
AIRE Industrial, worldwide manufacturer and public sales distributor of spill berms, containment products, water storage bladders, fuel bladders and warehouse equipment, has rolled out a significant upgrade of its e-commerce site at http://www.aireindustrial.net. The enhanced site will assist with customer ordering and tracking.
The more in depth site provides a richer and faster experience for visitors to search, price, and customize products for compliance, EPA, OSHA, and SPCC regulations. The website features drop down tabs that list all available configurations, and which spill containment items are currently in stock. The in stock availability is tied directly to the systems inventory and is updated every minute, providing customers instant information.
AIRE Industrial provides manufacturer direct sales to government agencies, the oil and gas industry, agriculture, maritime and shipping concerns, businesses with spill containment needs, private individuals and military branches worldwide.
As the containment berm manufacturer with the largest array of styles, the choices of spill prevention products are vast. With over thirteen models and hundreds of configurations, there is a design and size for every spill containment need. Berms are made from XR-5 and PVC fabric and are sized from two feet to over one hundred feet. Many options are available with drive thru, foam wall sides, snap up and L bracket configurations namely. Other add ons include ground pads, econo and deluxe, as well as track mat and skid guards for better worker safety and berm longevity.
Another improvement to the site includes a more robust water, grey water, and fuel bladder ordering system. Each tank and bladder can be sized and fitted with multiple flanges for optimum customization. Bladders are manufactured on site, and rigorously tested before sale and transport. Each water storage tank, as well as wastewater bladders and fuel bladders can have multiple hose locations and come standard with ground pads for puncture resistance. Liquid storage solutions from AIRE Industrial are made from superior fabrics such as XR-3, polyurethanes, and NSF-61 potable water approved materials.
The enhanced website features a large array of spill cleanup supplies including sorbent and spill kits. Visitors will find oil absorbents and universal sorbents, as well as absorbent pillows, sorbent booms, duffel spill kits, 55 gallon drum containment, overpacks, lab packs, and spill kits ranging in size from 5 gallon spill buckets to 95 gallon drum containers.
Buyers can find Eagle Manufacturing brand safety cabinets, including fire rated cabinets, paint and ink cabinets, acid storage cabinets, corrosive cabinets, as well as spill decks, modular spill containment pallets, dock and loading ramps, warehouse safety items such as guards, bollards and safety signs, in addition to 55 gallon drum handling equipment including hand trucks and dollies.
Stormwater management supplies are easier to order now as well. Diversion tubes, a sandbag alternative that comes in lengths up to one hundred fifty feet can be purchased though the site. Dewatering bags can be bought on site, as well as drain protectors, conical drain plugs, and culvert socks.
Contact AIRE Industrial at 2021 E Wilson Lane, Meridian, Id, by phone at 800-247-3846 or via the Web site at http://www.aireindustrial.net
ABOUT AIRE INDUSTRIAL- AIRE Industrial is a manufacturer direct to the public online spill containment store that produces spill berms, water storage tanks, fuel bladders, wastewater bladder tanks, and supplies spill containment equipment, located in Meridian, Id. AIRE Industrial has offices in Idaho, Washington, North Dakota, and partners in Europe, Asia, North Africa and South America.