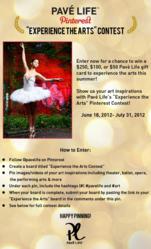 The contest invites users to indulge themselves in already spectacular deals on high-end entertainment by offering $50, $100, and $250 to the third place, second place, and first place winners
Darien, CT (PRWEB) June 26, 2012
Pavé Life has paired with Pinterest and started an "Experience the Arts" contest, with winners eligible for prizes to help them encounter the arts in a fresh way this summer. The contest uses creativity and social media to bring the arts to life— especially for the lucky winners.
Pavé Life (http://www.pavelife.com), the premier national source for discounts on operas, symphonies, plays, and other cultural outlets, sponsored their "Experience the Arts" Pinterest contest from June 18 to July 31 of this year. For a little over a month, U.S. and Canadian Pinterest users can pin images or videos of their art inspirations, include the hashtags #pavelife and #art, and be entered in to win up to $250 in prizes.
The contest invites users to indulge themselves in already spectacular deals on high-end entertainment by offering $50, $100, and $250 to the third place, second place, and first place winners, respectively. The deep discounts on the daily deal site— ranging from 40 to 65 percent regularly— make tickets to the most exclusive shows and performances a steal.
"Pavé Life is designed for people who enjoy the arts and culture, whether it's opera, symphony, ballet, art museums or the theater," said Pave Life CEO David Hack. "We want more people to enjoy a great night out full of arts events, and to do so more often, by giving them access to the best shows and performances at deep discounts."
Coming soon, Pavé Life will offer special deals for users who want to extend their night past first-class entertainment to luxury hotels and premium restaurants. By pairing their high-end entertainment with dinner or accommodations, the 40 to 65 percent opportunity yields even bigger savings.
Pavé Life is free to sign up, and delivers notifications of their discounts daily. Local and national tickets to first-class entertainment can be found on the exclusive site, which gives any new subscriber $20 towards their very first entertainment experience with the company.
Start pinning in the "Experience the Arts" contest today, and make sure to follow Pavé Life on Pinterest. All participants must be 18 years or older to win, and some have already started vying for their "glittering evening" of entertainment at a deep discount. Be creative, and good luck!