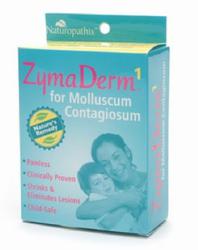 92% of responding physicians rated ZymaDerm™ effective in treating their patients with molluscum contagiosum.
Boise, Idaho (PRWEB) June 22, 2012
In an independent study conducted by the School of Business at Boise State University, of 346 physicians who used samples of ZymaDerm™, a natural non-toxic topical treatment for their patients with molluscum contagiosum, 92% of responding physicians rated it as effective, it was announced today by Naturopathix, Inc. the manufacturer of ZymaDerm™.
Of the physicians sampled, 86% stated that they were either likely or extremely likely to use ZymaDerm as their preferred treatment method for molluscum contagiosum, compared to prescription drugs, over-the-counter treatment options, or physical destruction of lesions.
"This is a very important study," says Naturopathix's CEO, Briant Burke, MD, MS, "because it clearly demonstrates that when doctors have treated patients with ZymaDerm™, they prefer its safe, gentle and effective topical application, to other more invasive, aggressive or costly treatments.
"Traditional treatments in the doctor's office, such as curettage or application of a blistering agent for the molluscum rash, can be extremely painful," continued Dr. Burke. "This causes real distress to the child, and for the parent witnessing it."
"Zymaderm™, a patented natural non-toxic topical treatment for molluscum contagiosum, is painless, safe, and available without prescription at leading online and neighborhood pharmacies, including 6000 Walgreen's drugstores nationwide," says Dr. Burke. "Most lesions will vanish within 30 days of applying ZymaDerm™ twice daily on the infected area."
"This was demonstrated in a recent clinical study published in March 2012 in the prestigious Journal of Drugs in Dermatology by the independent Center for Biomedical Research, Inc. It provided clear and convincing evidence that ZymaDerm™ is an effective, painless, natural treatment for molluscum contagiosum," concluded Dr. Burke.
Molluscum contagiosum is a common childhood condition of highly contagious, unsightly warty lesions. It can cover extensive areas of the body and spread to the face. Each year it infects almost 2.5 million children in the US.
It is caused by the MCV virus that is easily spread by direct skin-to-skin contact. It can persist for many months to up to 5 years. Although the condition is not life threatening, it causes embarrassment and self-consciousness in children at a time when acceptance from their peers is paramount. Because it is so contagious, infected children should be quarantined from playmates.
ABOUT NATUROPATHIX AND ZYMADERM™
Naturopathix, Inc. develops safe, effective and inexpensive treatments for common health conditions. It utilizes state-of-the-art knowledge combined with a low technology approach to reduce the high costs of medical care for patients. It markets ZymaDerm™, the only full strength topical homeopathic for molluscum contagiosum.
The ingredients in ZymaDerm™ are based on a patented blend of powerful all natural plant-based compounds and officially included in the Homeopathic Pharmacopeia of the United States, which the FDA recognizes by law as authoritative. The potency and level of purity of the ingredients in ZymaDerm™ meet the most stringent standards of excellence. It is available in leading chain drugstores, such as Walgreen's, independent pharmacies, and online merchants such as drugstore.com and amazon.com.