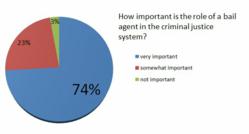 We have always known that bail is a natural adjunct to law enforcement, but to get this type of confirmation from such a large sample of sheriffs is very encouraging
Calabasas, California (PRWEB) June 25, 2012
In its continued support of the National Sheriffs' Association as a Platinum Corporate Partner, the ExpertBail team attended this year's National Conference in Nashville, Tennessee this past week. The conference was well attended with several thousand sheriffs representing counties from all over the country.
During the conference, ExpertBail passed out their famous "I Love My Sheriff" buttons and fielded a short eight question survey to gain insights into sheriffs' understanding and opinion about the bail industry. The survey results were both interesting and informative as they shed light on the real value that bail agents bring to the criminal justice system.
When asked how important the bail bond industry is to the criminal justice system, 74% of sheriffs responded that the bail industry is "Very Important." 23% of sheriffs responded that the bail industry is "Somewhat Important." Only 3% of respondents said "Not Important."
"We think that these results make an important statement about our industry," said ExpertBail's Chief Marketing Officer, Eric Granof. "97% of sheriffs we surveyed confirmed that bail is an important part of the criminal justice system. We have always known that bail is a natural adjunct to law enforcement, but to get this type of confirmation from such a large sample of sheriffs is very encouraging."
In addition to perceiving bail as very important, sheriffs were also asked to identify those attributes that best describe the bail industry. The number one attribute chosen by over 60% of respondents was "Professional." The number two attribute selected by 37% of respondents was "Helpful." The remaining attributes broke out as follows: Caring – 10%; Intimidating – 6%; Dishonest - 5%; Unethical – 5%.
"Once again, we are very optimistic about the results of the survey," says Granof. "For far too long, the bail industry has been pinned with the "thug/criminal" stereotype. It is nice to see that such an important stakeholder in the criminal justice system, like law enforcement, is able to look past those false images and see our industry in such a positive and professional way."
About ExpertBail
ExpertBail is the bail bond industry's first true national bail bond brand. Comprised of the most experienced and highest quality bail agents in the industry, ExpertBail helps consumers reduce the clutter in the bail marketplace and directs them towards a trusted, proven and experienced bail agent in a simple and transparent way. Expert Bail is backed by AIA, the oldest and largest family of bail bond insurance companies. With over 150 years of stability, trust and knowledge behind every bond written in the ExpertBail Network, our focus is on the consumer and helping them through a difficult time. The mission of ExpertBail and its network of agents is not only to meet the expectations of our customers, but to exceed them substantially.
About AIA
The AIA family of companies has been partnering with agents across the country for over a century. Formed in 2003 as an alliance of the surety bail industry's leading companies Allegheny Casualty, International Fidelity and Associated Bond, AIA utilizes a unique "service-focused" approach to management that provides its family of agents with the knowledge, tools and commitment they need to grow their business and succeed. AIA has become the overwhelming industry leader in agent service, national coverage, bail written and number of agents.