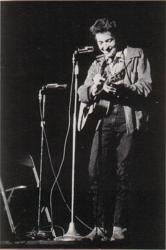 Bob Dylan is an American legend. He has touched the hearts of every generation through his amazing lyrics and music.
New York, NY (PRWEB) June 22, 2012
American legend, Bob Dylan, has announced his Fall 2012 tour which is to introduce his next studio album which is expected to be released in late summer or early Fall, 2012. As of now, Dylan hasn't named his newest album keeping his fans in suspense He will begin his tour in Lethbridge, Canada at the Enmax Centre on Saturday, August 11th.
Dylan's current plans include approximately 13-14 shows over a 21 day period. His upcoming album will be his 35th studio album. His most recent album before this was released in 2009 and it was a Christmas themed album called "Christmas in the Heart." He masterminded an album which was a compilation honoring 50 years of Amnesty International. It was released in January, 2012 and the name of it is "Chimes of Freedom: Songs of Bob Dylan Honoring 50 Years of Amnesty International." This album contains 4 discs with Dylan songs done by famous artists like Adele, The Dave Matthews Band, Sting, Miley Cyrus and many others. President Obama presented Bob Dylan with the Medal of Freedom in DC in late May, 2012.
The cities which Dylan will visit include Lethbridge Canada, Cranbrook Canada, Missoula MT, Billings MT, Rapid City SC, Sioux Falls SD, Fargo ND, Rochester MN, Fort Wayne IN, Indianapolis IN, Youngstwon OH, Johnstown PA and Big Flats NY. Find cheap Bob Dylan tickets at Cheap Concert Tickets. Cheap Concert Tickets is open 24/7 and they have a friendly customer service staff ready to serve their customer's needs.