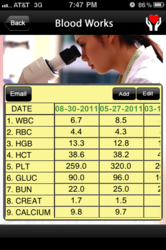 (PRWEB) June 22, 2012
MyBloodWorks (MyBloodWorksApp.com), the innovative iPhone app that lets people track their vitals and blood levels and access their own virtual medical secretary, has made iTunes' coveted "What's Hot" List.
Designed by Gogle LLC, MyBloodWorks is a powerful tool that lets people track and manage vitals, including blood pressure levels, pulse, weight and more. Plus, they can share data with their health care provider, and contribute meaningfully to their Physician-approved health and wellness program.
In addition, MyBloodWorks allows people to store and track all of their medications, along with their dosage and strength. They can also input emergency contact numbers that can be instantly accessed via a "click to call" feature, and store information related to previous and upcoming doctor's appointments.
At the same time, MyBloodWorks is intuitive and simple to use, and requires no medical knowledge or technical background. All medical information is securely and locally stored on the iPhone, iPad or iPod touch, and no data is transmitted to Gogle LLC or any third party.
"It's gratifying to see that the MyBloodWorks has reached iTunes' `What's Hot' list," commented Glen Ogle, founder of Gogle LLC and the app's creator. "MyBloodWorks' purpose is to enhance the care process and empower people to life healthier, stronger and happier lives. I'm grateful to iTunes for featuring the app, and to the many people who have downloaded it so far and told me how helpful it is."
People with a medical condition that requires tracking and monitoring of vitals and blood levels, such as those with conditions like diabetes, cancer, AIDS, HIV, transplant patients, can download MyBloodWorks from the iTunes store here. The app is compatible with iPhone, iPad and iPod touch, and requires iOS 3.0 or later.
Added Ogle: "While I hope that MyBloodWorks helps people improve and manage their health, they should always consult a physician regarding any health concerns. Never rely on an app – mine or anyone else's – for medical advice."
For more information or media inquiries, contact Glen Ogle at glen(at)mybloodworksapp(dot)com.
About Gogle LLC
GOGLE LLC is dedicated to creating the best patient medical apps. The company's flagship app, MyBloodWorks, tracks health through vitals and blood tests, and functions as a personal medical filing cabinet and secretary – and all while being simple, easy and intuitive to use. Learn more at http://www.mybloodworksapp.com.