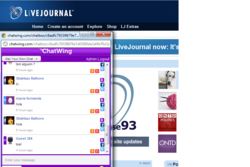 New York, NY (PRWEB) June 24, 2012
New users of Livejournal will now have a trendy companion in the form of a web chat tool that has been introduced by Chatwing. This chat application is known for its adaptability in various online communities. The Chatwing tool has also been gathering positive reputation in the blogosphere because of the visibility rate that it can offer to most blogs. Chatwing is also a versatile chat engine that can be used for different kinds of online purposes.
Livejournal users may think that Chatwing is just another chat application in the blogging industry. However, Chatwing's rate of simplicity is one of the reasons why it is climbing the ranks today. This empowers the fact that people prefer simple applications over chatrooms with complicated commands yet can only deliver minimum communication potential. In Chatwing's latest version, Livejournal users can use the social media integration to further market their blogs and websites. Adding to that, they can use the chatroom to communicate with their blog visitors.
The Chatwing dev team has also tweaked the shoutbox so that it can run smoothly in various blogs and websites. Up to date, the Chatwing tool has a capacity of 600 users. The team is planning to upgrade it to 1000, in order to help people gain better communication leverage. Bloggers have also benefited from Chatwing's easy installation mechanism. The process of Chatwing chatrooms installation can be accomplished in three key steps: blog registration, widget customization, and code retrieval. This string of processes happens in just seconds.
The developers of Chatwing are also planning to pursue marginal upgrades to increase the stability of the shout box. The Chatwing team is dedicated in providing a flawless avenue of communication for many Livejournal users. In order to reach many people, the team has also created a Chatwing Facebook page that is filled with informational and interesting content.
About Chatwing.com
Chatwing.com has developed live chat software for websites and blogs. It caters to different online communities due to its high rate of connectivity. Everyone can create a customizable live chat box feature in 1 minute or less. Users have the ability to customize the size, color, and fonts of the chat product. The ability to chat via social media accounts such as Facebook and Twitter enable Chatwing to offer a personal and unique real-time experience to all sites. Chatwing is 100% free and very easy to use.