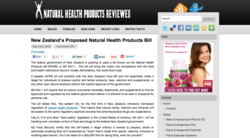 we'll be coming out swinging as soon as it's up and running
Los Angeles, California (PRWEB) June 23, 2012
Earlier today, the natural health product review site HealthNaturalProducts.net announced that they will be launching a new section of their site that will feature the latest news on the natural and organic health product industry.
Currently, the site features product reviews of all-natural products for skin care, weight loss, and sexual enhancement. The website also includes articles and blog entries concerning organic products industry and the benefits of all-natural products.
The few articles and entries that concerned anything considered as newsworthy will now be more prominently featured on the site and will serve as the site's regular headline. Articles and blogs will be relegated to the sideline as current developments on the natural health industry become more and more prevalent in the news.
Site manager Nicolas Camp says, "Other that informing our visitors of what new and effective natural products are out there now, we also want to fill them in on what's going on in the organic health industry. This will of course include news on products pulled from the shelves for health or legal concerns."
"It is important to keep yourself well informed, especially when it comes to your own health and well-being," he adds.
The site manager has not revealed a release date for the new section as of the moment, but it can be expected to launch in the coming weeks, as the team will want to unveil it with a good amount of content ready.
"You can say that we'll be coming out swinging as soon as it's up and running. It's the news after all. It doesn't stop and wait for anyone," says Camp.
About Natural Health Products Reviewed
HealthNaturalProducts.net features reviews of the latest natural health products, including natural weight loss products, organic skin care products, and natural sexual enhancement products. The website also features articles and blog posts about latest news in natural and organic health industry.