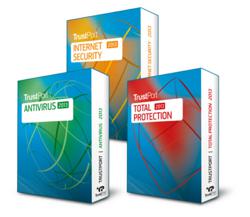 We enhanced TrustPort product versions 2013 as a result of listening to our users who asked for simplified work with the program, faster scanning speeds and optimized computing performance, says Pavel Mrnustik, CEO at TrustPort
Brno, Czech Republic (PRWEB) June 26, 2012
The product lines will remain the same; products for Home, Office and the Enterprise segment. Home users can make their own choice for required protection according to their demands on security level. They can either opt for TrustPort Antivirus or TrustPort Internet Security or for complete piece of mind TrustPort Total Protection.
"As always, we at TrustPort want to ensure to our users that we develop the most advanced products in the field of antivirus industry. Our new 2013 versions are tangible proof. Our partners and customers are constantly helping us improve our products and their feedback is always appreciated. The new product versions were tailored according to their needs. Now they can experience a real sense of security", says Marcela Parolkova, Sales Director at TrustPort.
Besides traditionally superb virus protection, spam filtering, firewall protection, parental lock, and other security tools, the new version includes many other useful functions. For example, TrustPort Application inspector, the protection layer which runs continuously in the background, and which checks all suspicious activities within the file system and system registry, has been improved markedly. Users can divide applications into groups with different rules and set the software to protect specified parts of HDD and also the Windows registry.
Pavel Mrnustik, CEO at TrustPort adds: "We enhanced TrustPort product versions 2013 as a result of listening to our users who asked for simplified work with the program, faster scanning speeds and optimized computing performance."
TrustPort company always tries to respond to customers' demands. Key enhancements to the new 2013 versions, compared to its predecessors are the following: smaller download size, faster installation time and less process and memory usage.
The new versions are now available for download here: http://www.trustport.com/en/download
...................................................................................................................................
TrustPort Company Profile
TrustPort is a leading manufacturer of security software. TrustPort products are highly rated in multiple third party tests, pushing the brand amongst the leading vendors of security solutions for information and communication technologies. Tests conducted by Virus Bulletin and AV-Comparatives confirmed the prominent position of TrustPort in the antivirus industry.
TrustPort products are offered in several languages, and they protect companies as well as home users in more than one hundred countries of the world. The company is part of the Cleverlance Group, being one of the top Central Europe corporations that provide solutions and services in the field of information technology.
http://www.trustport.com
http://www.trustport.com/blog
http://twitter.com/trustportnews
http://www.facebook.com/trustport