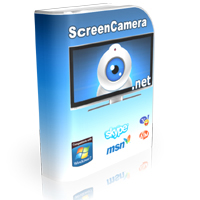 Video studio in real-time to record and broadcast high definition video
Sao Paulo, SP (PRWEB) June 26, 2012
PCWinSoft releases ScreenCamera.Net, a powerful virtual camera, video recorder and video broadcaster equiped with layer-by-layer technology and frame-by-frame animation technology. ScreenCamera.Net works like a video studio in real-time offering all resources of a professional video studio without the need to edit content. It is all done in real-time.
ScreenCamera.Net is built upon an object-oriented layer-by-layer frame-by-frame technology that allows users to add and animate vectorial elements. Elements include: screen capture with support for multiple monitors, webcam video capture, video card capture, images and photos, movies, audio-tracks, text stamps, date-time stamps, vectorial shapes, transparency, rotation, and other effects. With ScreenCamera.Net, users can animate elements in a way similar to Adobe Flash with key frames through a timeline.
ScreenCamera.Net creates a camera on the system that works with Skype, UStream.tv and all websites and applications that work with webcams, so it can be used in conjunction with video conferencing utilities and websites for real-time video broadcasting. Not only that, ScreenCamera.Net can also do stand-alone broadcasting: With the push of a button the program starts streaming http video content that can be opened by all media players, Flash player and Silverlight.
ScreenCamera.Net is the most recent release of PCWinSoft regarding the screen cameras family. The family begun with ScreenCamera Toolbar, a lightweight toolbar for caturing and recording the desktop with picture in picture abilities; And now PCWinSoft brings the virtual camera video output capabilities to a whole new level with superimposition of layers and the ability to add and animate n number of elements on the same video output. ScreenCamera.Net provides the user with a canvas that can be organized in a infinity of ways.
While ScreenCamera.Net allows for such a rich visual environment it also records the content in high definition to a variety of video output formats including AVI and WMV. The application can be used to record streaming video from inside browsers and media players, make screen recorded tutorials, record games, broadcast movie files, all with the ability of branding recordings with a logo or company logo. The program supports all types of image files: PNG, JPG, GIF, and BMP.
Apart from all that ScreenCamera.Net also comes equiped with a video player, a video browser, an image previewer, an image printer, and an image browser that gives the program the status of a complete solution because the user needs not to utilize third party tools to complement the application workings.
Whether the user is a webcam user looking to make the most of your webcam, or a professional broadcaster looking for a real-time video studio equiped broadcasting tool, or a teacher looking to record screen tutorials, or a surveillance user looking to gather multiple cameras in one video output, or a gamer looking to record real-time game playing with picture in picture abilities, or a photo user looking to add effects to images and print them, or anyone looking to make the most out of their video conferencing experiences, ScreenCamera.Net will fit the user needs.
ScreenCamera.Net runs under Windows 2000/XP/2003/Media Center/Vista-32/7/8 32 and 64-bit versions, and may be purchased securely online from PCWinSoft Systems Ltd, the same producers of ScreenCamera and 1AVCenter. You can download a free trial version from the same web address. For more information, contact PCWinSoft Systems Ltd, R Fonseca da Costa 59, Jardim da Saude, Sao Paulo, 04151060 Brazil. Email: contact(at)pcwinsoft(dot)com. Phone: +55 11 5077 3803