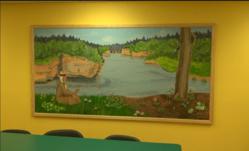 To give and to receive are one in Truth.
Wisconsin Dells, WI (PRWEB) June 22, 2012
"The minute I heard about our forthcoming celebration of International Forgiveness Week and Weekend of Perfect Peace, I had the idea to give my painting of a Ho-Chunk healer to the Ho-Chunk Nation," said artist and Teacher of God, Arthea 'Arty' Senger.
A Course In Miracles International Teacher of God, Arty Senger, was speaking in a small ceremony at a luncheon gathering of staff and tribal elders at the Ho-Chunk House of Wellness on June 19, 2012. After giving a brief history of the painting, Arty concluded her speech by saying, "I loved painting it. I really felt a sense of peace sitting there by the river painting...
"Coming here to your pool, and being healed in this place, I felt that my picture should be here. I thank you so much for receiving it and I thank you for the honor of this luncheon."
Much to her surprise, Arty was then further honored with the gift of a Pendleton Blanket. In making the presentation, Ho-Chunk senior tribal member, Paul Cloud expressed deep appreciation and gratitude to Arty for her gift of the painting, which now proudly adorns a wall of the Youth Services section of the Wellness Center.
Cloud said, "The kids really like it in the Youth Center. It is where it belongs because of the importance of the subject and the history behind it. It means a lot to us and we are really thankful. All the Ho-Chunks are. And we like to give back. When someone gives us something, we like to give something in return. So we have something for you, on behalf of all of us here and the Ho-Chunk Nation."
The Ho-Chunk Nation is invited to participate, with special ceremonies, at the events of International Forgiveness Week and Weekend of Perfect Peace, to be held at the Miracles Healing Center from September 14-23, 2012.
Said, Teacher of God, Charlotte Fielding, a guest at the luncheon, "It truly is as blessed to give as to receive. I am reminded of Lesson 108 in our Course In Miracles, where Jesus says, 'to give and receive are one in truth.'"
Fielding continued, "The experience of everything that transpired at this luncheon, was really of a greater joining, far beyond our ideas of separate bodies. We all feel honored and thankful to be part of it."
The full story behind the painting of Arty Senger's "Ho-Chunk Healer" can be read in an article by Ray Comeau, entitled "Vision of a Ho-Chunk Healer" at http://throughamirrorbrightly.blogspot.com/2012/05/vision-of-ho-chunk-healer.html.
International Forgiveness Week and the Weekend of Perfect Peace will be observed worldwide on September 14 – 23, 2012.
For the ten days, A Course In Miracles International will hold special celebration events at the Miracles Healing Center in Wisconsin Dells, WI and in affiliate centers around the world.
For more information about all planned events, and how you can participate, visit http://www.forgivenessweek.org/events.php.