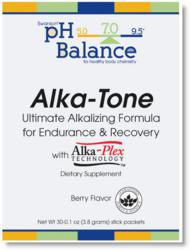 Swanson pH Balance Alka-Tone goes beyond typical sports drinks to promote totally-body wellness and pH balance.
Fargo, ND (PRWEB) June 25, 2012
The importance of balance to an athlete is indisputable. From running, to jumping, to catching or throwing, athletes require balance to be successful. Maintaining balance in the pH levels in their bodies is just as important. When athletes exert their muscles, lactic acid builds up causing fatigue, soreness and a longer recovery time. Now there is a sugar-free, all-natural alkalizing drink mix for athletes, Swanson® pH Balance Alka-Tone Ultimate Alkalizing Formula for Endurance & Recovery, which goes beyond typical sports drinks. The new dietary supplement features Alka-Plex™ Technology to promote totally-body wellness and pH balance.
As the body metabolizes fuel, it creates acid wastes and hydrogen ions accumulate in muscles. This is also known as lactic acid buildup and it can cause a heavy feeling and delay recovery time. To sustain a healthy pH balance in the body and prevent lactic acid buildup, acid and alkaline balance must be achieved. Swanson pH Balance Alka-Tone features energizing B-vitamins and electrolytes with Alka-Plex—a mineral alkalization supplement to promote proper pH balance in athletes as well as people of all ages. It is sweetened with a natural Stevia-based sweetener, making this an alternative to traditional recovery sports drinks.
Swanson Health Products is an industry leader in bringing vitamins directly to consumers at the lowest prices possible. Swanson Health Products, headquartered in Fargo, ND, offers the highest quality vitamins, supplements and natural health care products and is Good Manufacturing Practices certified. Swanson Health Products goes a step beyond its competitors by offering powerful guarantees. All products are backed by a 100% Satisfaction, Money-Back Guarantee. For more information, please visit http://www.swansonvitamins.com.