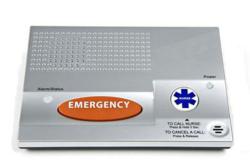 Nurse Alert gives seniors the opportunity to live a quality life in the comfort of their own home without constant health related supervision. - Chuck Kienzel, co- owner of Nurse Alert Inc.
Bradenton, FL (PRWEB) June 24, 2012
Nurse Alert, Senior medical alert patent pending system offers two unique buttons. Pressing the emergency button connects a user to a 24- hour emergency monitoring center. For non-urgent medical needs pressing the Nurse Triage button connects the user to our 24-hour Nurse-Triage Call Center. Our Nurse Triage Center is staffed with board certified R.N.'s who can answer medical questions.
Direct connect to Nurse Alert's Triage Center staffed with licensed nursing professionals. Once connected, the subscriber's medical records are prompted by the call and available to the nurse for proper diagnoses. In the case of serious health concerns, the nurse will dispatch local emergency medical responders to the subscriber's location and alert family of the situation. This partnership is unique in the industry today, and offers you and your loved ones quick access to the appropriate level of care in a timely response