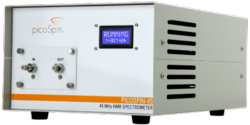 This award is a testament to the commitment and innovative spirit of every member of our technology development team
Boulder, CO (PRWEB) June 27, 2012
The picoSpin™-45 NMR spectrometer has won a prestigious R&D 100 award. picoSpin's breakthrough product delivers true high-resolution NMR spectroscopy in a rugged shoe-box sized package at a cost far below any previous technology. It has applications wherever chemists require rapid and cost-effective access to analytical spectroscopy.
The R&D 100 Awards have long been a benchmark of excellence for industry sectors as diverse as telecommunications, high-energy physics, software, manufacturing, and biotechnology. Winners of the R&D 100 Awards are selected by an independent judging panel and the editors of R&D Magazine. Other winning organizations this year include Los Alamos National Laboratory, Lawrence Berkeley National Laboratory, Intel, Horiba Scientific, EMD Millipore, Bruker AXS, Dow Chemical, MIT Lincoln Laboratory and Harvard University. A full list of this year's winners is available at http://www.rdmag.com.
John Price , President and Chief Scientist of picoSpin, commented, "This award is a testament to the commitment and innovative spirit of every member of our technology development team: Chris Jonkman, Director of Engineering; Erick Winston, Physicist and Director of Software; Dean Antic, Chief Chemist and Director of Marketing and Michael Steinbach, Independent Engineering Consultant. It has been a remarkable privilege to lead this team. We are deeply grateful to our Chairman, Charles E. Miller, for his support and visionary guidance from the inception of this project. "
The picoSpin™-45 has also been recognized as a 2011 Edison Awards Winner for best new product and as a finalist for most innovative new product in the 2012 European Life Science Awards.
###
About picoSpin: picoSpin, LLC, Boulder, Colorado, USA, was founded in 2010 by its Chairman, Charles E. Miller, together with a team of scientists and engineers. The mission of picoSpin is to develop, manufacture, and market miniature NMR spectrometers. picoSpin's products are used wherever chemists required rapid and cost-effective access to analytical spectroscopy. Proven applications include quality analysis, quality control, chemical education, and process development. Please visit us at http://www.picospin.com.