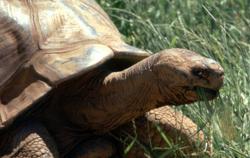 Methuselah will be deeply missed by everyone here at Reptile Gardens and visitors from around the world. -- Johnny Brockelsby, public relations director of Reptile Gardens
Rapid City, SD (PRWEB) June 22, 2012
The memorial for Methuselah, a beloved mascot of Reptile Gardens in Rapid City South Dakota, will be held on July 10, 2012 from 10 a.m. – 2 p.m. at Reptile Gardens.
Methuselah, a giant Galapagos tortoise who weighed over 500 pounds, passed away July 10, 2011, having just celebrated his 130th birthday on June 12. As a tribute to the much-loved tortoise, a life-cast bronze statue will be unveiled at 10:30 a.m. during the memorial.
"Methuselah was here since 1954," said Johnny Brockelsby, public relations director of Reptile Gardens. "He will be deeply missed by everyone here at Reptile Gardens and visitors from around the world."
In addition to the life-sized statue, a children's playground has been created at Reptile Gardens in memory of Methuselah. Find out more about Reptile Gardens at http://www.reptilegardens.com.
"Children really loved Methuselah," says Brockelsby. "What better way to honor that friendship than with an area dedicated to the children visiting the park."
If you would like to share a memory of Methuselah, please submit a photo or story on our Facebook wall at http://www.facebook.com/reptilegardens or send to:
John Brockelsby
Reptile Gardens
Box 620
Rapid City, SD 57709
Please include name, address, and contact information on all materials submitted.