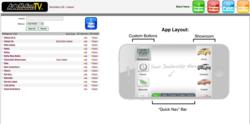 Customer's preference for interaction with the dealership is changing. We thought it was important to give the dealer the ability to tailor their app to their mobile customer's needs
(PRWEB) June 26, 2012
Today AutoMotion Dealer App announces improvements the platform technology that powers every dealer mobile app. "Mobile's rapid growth requires an app platform that's flexible and easy to make changes to", stated company President Ben Anderson. "We're excited to announce improvements in our product that enhance flexibility for the dealer."
Every AutoMotion Dealer App platform is powered by a cloud-based backend system. This system allows complete dealer control, allowing new features to be added, deleted, or modified. Dealer changes to the app become instantly available to all app users and do not require resubmission or code base alterations.
Dealers have the flexibility to offer time-sensitive specials, push coupon information, or highlight events through their mobile app. All changes to app layout or function can be preformed by the dealer themselves or the AutoMotion team at no charge.
"We really focused on giving the dealers control of their mobile marketing," Anderson continued, "Customer's preference for interaction with the dealership is changing. We thought it was important to give the dealer the ability to tailor the app to their mobile customer's needs".
New technology permits adding many "Dealer App Extensions" with a single click. Dealers can add buttons to the app that cover just about any feature; roadside assistance, value your trade, gas finder, payment calculator, and many more.
In addition to full app control, the platform also includes detailed reporting analytics and push notification messaging.