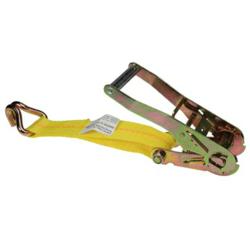 "We're always excited when we can expand our product lines to meet our customer's needs."
-Sarah Barron,
US Cargo Control
Urbana, IA (PRWEB) June 28, 2012
US Cargo Control, an e-commerce company specializing in ratchet straps, e-track, and other cargo control products, has added 18 new items to its group of replacement tie down straps. The product mix has sizes ranging in widths from 2" to 4". End fitting options include a black flat hook, a wire hook, or chain extension.
Sarah Barron, US Cargo Control's merchandising team lead, said the decision to increase the product line was based on the company's goal of providing cost-effective solutions to customers: "A replacement strap is a great way to get new use out of a older strap assembly, since you only need to buy the strap that needs to be replaced."
Customers can choose from two basic styles of straps: one with a ratchet assembly or one with a bolt loop. Barron said the straps with the ratchet assembly are also a great way convert a conventional winch strap into a ratchet strap since the ratchet assembly is included.
Short end straps measure 11" long; 25' and 28' lengths are also available. Custom lengths are also available by calling the US Cargo Control sales team at 866-444-9990.
All of the replacement tie down straps are constructed with a tough polyester webbing in strengths of 12,000 lbs. for the 2" width and 20,000 lbs. for the 3" and 4" widths. Barron notes that polyester is ideal for tie down straps because it has a very little stretch which keeps cargo secure during hauling. A sewn-in tag on each strap displays break strength information so it's easy for customers to follow important working load limit guidelines.
Ratchet straps are a top seller at US Cargo Control, and were some of the first products the company began selling when CEO Tim Guenther founded the business seven years ago. The e-commerce retailer has grown rapidly since and now also sells a variety of cargo control products, ranging from moving supplies like moving blankets and hand trucks to rigging and lifting equipment including wire rope and lifting slings.
According to Barron, expanding the tie down and ratchet strap category has been ongoing and will continue to grow. "We're always excited when we can expand our product lines to meet our customer's needs," said Barron. "We're now in the process of adding additional colors of our tie-down straps, and getting ready to roll out our very own Blackline straps, which will offer some of the highest working load limits and break strengths available in the industry."
###
About US Cargo Control
US Cargo Control was founded in 2005, offering products for the trucking, hauling, rigging, lifting, and moving supply businesses through its US Cargo Control website. The company quickly expanded its brand portfolio to include additional web properties under the Clickstop name, including EcoFoil.com, SpaceSavers.com and BellyBling.net. For more information, visit clickstop.com.