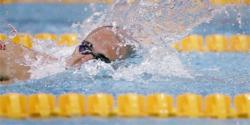 At times it was hard to keep going, continuing to train when I didn't have a clear goal to train for, but I'm so very thankful to my family, friends, my agents and my solicitors who have been beside me, supporting me and helping me fight
(PRWEB) June 22, 2012
David Roberts' hopes of becoming Britain's most decorated Paralympian in the modern era have been resurrected after winning a right to appeal against his omission from the London 2012 swimming squad.
The 32-year-old was excluded from the ParalympicsGB squad in April after missing the Paralympic qualification times in the S7 50m and 100m freestyle events at the British International Disability Swimming Championships in Sheffield.
Roberts, an 11-time Paralympic gold medallist, had only returned to full-time training in March after suffering from pneumonia.
But despite his illness, Roberts was not given special dispensation by John Atkinson, the performance director for disability at British Swimming, to compete in the summer. However, after a two-month process, an appeal committee confirmed Atkinson must now reconsider Roberts' case.
"It was my dream to compete in the Paralympics in Britain, in the home nation of my family and friends, but when I heard I didn't make the team my dream was totally shattered," said a delighted Roberts.
"Now I feel vindicated in taking the appeal process this far – it's incredible to come away with a decision in my favour after such a difficult last few months."
While Roberts had been overlooked in the original squad, defending Paralympic SB6 100m breaststroke champion Liz Johnson and European SB6 100m breaststroke gold medallist Charlotte Henshaw were both included, despite missing their qualification times.
Atkinson justified the decision to include them because both were ranked in the top four in their events, unlike Roberts.
However, the Welshman said injuries and illness ability to train and compete and was unable to improve upon his world ranking.
"At times it was hard to keep going, continuing to train when I didn't have a clear goal to train for, but I'm so very thankful to my family, friends, my agents and my solicitors who have been beside me, supporting me and helping me fight," said Roberts.
"The community in South Wales has also been amazing – it's truly humbling to see the support that's come from people and I hope I will now have the opportunity to compete in these Games to repay them for the faith that they have shown in me."
As well as illness, Roberts' Paralympic preparations were hampered by an incredible run of bad luck.
In 2009, Roberts fractured his elbow after he was dragged into a tree while taking his dog for a walk.
The following year he spent a week in hospital in order to have kidney stones removed, and he missed last year's European Championships after breaking his elbow in a collision with another swimmer while training in Caerphilly.
Roberts is level on 11 career golds alongside Baroness Tanni Grey-Thompson and needs one more to pass the former wheelchair racer on the list of Britain's most successful Paralympians.
Roberts, who has cerebral palsy, won freestyle gold medals in the S7 50m, 100m and 400m and the 4x100m relay in Beijing four years ago.

Find out more detailed explanations about classification on British Swimming's website
For all your latest news ahead of the 2012 Paralympics, follow @C4Paralympics on Twitter and like the C4Paralympics Facebook page