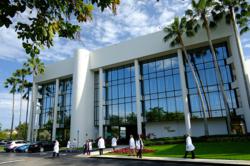 "A novel anti-inflammatory approach produced a significant reduction in stroke size and neural deficit in an animal model"
Los Angeles, California (PRWEB) June 25, 2012
New evidence supporting the potential value of a new type of anti-inflammatory treatment for stroke published last week in the Journal of Cerebral Blood Flow & Metabolism[1]. The new animal study documented more than 40% reduction in stroke size(volume) and neural deficit after treatment with a new TNF-alpha decoy receptor fusion protein, a class of drugs originally developed to treat forms of arthritis. This new study is the latest in a series of animal experiments that goes back more than a decade and follows publication last year of the first human results of the use of a TNF-alpha decoy receptor fusion protein following stroke[2]. The human study, performed at the Institute of Neurological Recovery (INR) in Los Angeles, documented rapid and sustained improvement following treatment at the INR. News reports (see below) have documented the striking potential of the revolutionary new INR treatment approach.
Scientific Background
Stroke produces tissue damage in the brain that causes a detrimental inflammatory response and elevation of the levels of a protein, TNF, that amplifies inflammation. TNF-alpha decoy receptor fusion proteins, such as etanercept, and other biologic TNF inhibitors reduce the damage caused by excess levels of TNF. These new stroke studies suggest that TNF-alpha decoy receptor fusion proteins may have the potential to improve brain function, if administered in ways that allow brain penetration. The INR in Los Angeles and Boca Raton, Florida has pioneered patented [3] anti-TNF methods for treatment of neuroinflammatory disorders, including stroke, Alzheimer's disease, and sciatica. Rapid clinical improvement in brain function in AD following the use of a TNF-alpha decoy receptor fusion protein has been documented on 60 Minutes in Australia in their feature entitled "A New Shot at Life" and in the scientific literature[4].
For further information, please see the website of the Institute of Neurological Recovery: http://www.strokebreakthrough.com
References
1. Sumbria, R.K., et al., Brain protection from stroke with intravenous TNFalpha decoy receptor-Trojan horse fusion protein. J Cereb Blood Flow Metab, 2012.
2. Tobinick, E., Rapid improvement of chronic stroke deficits after perispinal etanercept: three consecutive cases. CNS Drugs, 2011. 25(2): p. 145-55.
3. Issued and pending U.S. and international patents, including, but not limited to U.S. patents 6,982,089; 7,629,311; 7,214,658; and 8,119,127, all assigned to TACT IP, LLC and Australian patent 758,523.
4. For further scientific references please see the INR website Scientific Publications webpage.
© 2012 Institute of Neurological Recovery (INR®)