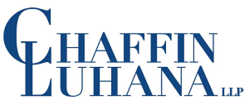 New York, NY (PRWEB) June 24, 2012
Chaffin Luhana LLP, a national plaintiffs-only law firm, alerts women to the results of a new study concluding that vaginal mesh slings reduce the risk of post-surgical incontinence, but unfortunately increase the risk of complications such as bladder perforation and pelvic hemorrhaging. According to research published in the New England Journal of Medicine on June 21, 2012 , women who undergo surgery with a vaginal mesh sling to treat post-operative stress urinary incontinence are less likely to experience incontinence a year later, but more likely to suffer a transvaginal mesh injury like an infection, urinary leakage, and major bleeding.
Urinary incontinence is commonly associated with pelvic organ prolapse (POP), a condition that occurs when a woman's pelvic muscles grow too weakened or stretched from childbirth, surgery, or other causes to adequately support pelvic organs like the bladder, urethra, and bowel. As a result, one or more of these organs may drop or fall into the vaginal wall. According to previous research, about a quarter of those women who elect to have surgery to repair the problem will develop urinary incontinence afterwards.
University of Michigan researchers compared women who went through POP surgery and were implanted with a transvaginal mesh sling with those who went through the same surgery but were not implanted with the sling. The sling used in this study was the Gynecare TVT, made by Ethicon, a subsidiary of Johnson & Johnson. The device is made of surgical mesh and is designed to lift the bladder and relieve pressure to prevent incontinence.
According to the study results, the transvaginal mesh sling cut in half a woman's risk of subsequently developing incontinence. After three months, 23.6 percent of the women with the sling and 49.4 percent of those without it had urinary incontinence. Twelve months after surgery, 27.3 percent of the sling group and 43 percent of the non-sling group had urinary incontinence.
On the other hand, nearly 7 percent of those with the sling suffered bladder perforation, compared to 0 percent in the non-sling group, and 31 percent of those with slings experienced urinary tract infections, compared to 18.3 percent of those without slings. Finally, those with the sling also experienced bleeding complications (3.1 percent versus 0 percent), and incomplete bladder emptying six weeks after surgery (3.7 percent versus 0 percent).
These study results come on the heels of an announcement by Johnson & Johnson that they are discontinuing the Gynecare TVT Secure transvaginal mesh implant, which along with other similar mesh implants, have been associated with serious, painful complications like infections, erosion, pelvic pain, urinary problems, hardening or shrinking of the mesh, or painful sexual intercourse. The FDA warned in 2011 that a transvaginal mesh injury such as these is not a rare occurrence. Many women have filed a transvaginal mesh lawsuit because of such complications, which often require additional corrective surgeries that aren't always successful.
In an accompanying editorial to this study, however, Cheryl Iglesia, M.D., of the Georgetown University, noted that vaginal slings are clearly different from transvaginal mesh, which is often used to create broader support of pelvic organs. Slings are smaller and shaped like straps, about 1 cm wide and 10 cm wide, while transvaginal mesh sheets can span up to 10 cm wide and 20 cm long.
The study authors noted that though beneficial, vaginal slings are not without risk. Women are advised to discuss the options with their doctors, and to be aware of the potential problems that could occur. Those who have suffered a transvaginal mesh injury are encouraged to seek the advice of a transvaginal mesh lawyer.
Chaffin Luhana LLP has a long and successful history of protecting the rights of women affected by medical devices. Partners Eric Chaffin and Roopal Luhana have represented high-profile cases in federal and state courts across the country. Chaffin, for example, was recently awarded a position on the Vaginal Mesh Plaintiff Steering Committee regarding American Medical Systems products. Though unable to guarantee results, the firm has a distinguished track record of success and is highly committed to each case.
If you or a loved one has suffered a transvaginal mesh injury, contact a transvaginal mesh lawyer at Chaffin Luhana LLP for a free and confidential case review at 1-888-480-1123, or visit their website at chaffinluhana.com. A transvaginal mesh lawsuit may be able to help recover damages and ease the financial challenges of medical treatment.
CONTACT
Eric T. Chaffin, Esq.
CHAFFIN LUHANA LLP
600 Third Ave.
12th Floor
New York, New York 10016
Toll Free Telephone: (888) 480-1123
Toll Free Fax: (888) 499-1123
Attorney Advertising. Prior results do not guarantee or predict a similar outcome with respect to any future matter.