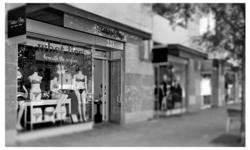 We've created a new website to cater to our client's every need
Austin, TX (PRWEB) June 26, 2012
Teddies for Bettys, located in Austin's popular 2nd Street District, has just launched a new e-commerce website. The site, http://www.teddiesforbettys.com, features bras, panties, lingerie, lounge wear, and accessories. "Our customer base literally spans across the United States," commented Founder and President Ashley Kelsch, "so we've created a new website to cater to our client's every need—from a personalized wish list to our own images of each storefront item to Pinterest, Twitter and Facebook icons so they can share their favorites." Luxury brands customers can find online and in the boutique include Aubade, Cosabella, Fleur of England, Hanky Panky, Jimmy Jane, Made by Nikki, Marie Jo, Prima Donna, Simone Perele, and more. Visitors to the new site enjoy a first class shopping experience with usability features to include drag and drop shopping.
"We are looking forward to making a significant impact on the web commerce sector of our industry by providing superior inventory matched with a superior online experience. With detailed product imagery and unique functionality and features, we feel confident that our client base will be ecstatic about what we have created for them," said CEO Rayner Smith.
The site even offers a Free Member section, where clients can store their preferences for more personalized service on their next visit, create gift wish lists to easily share their favorites with friends and family, receive boutique offers and invitations to special events and trunk shows, as well as receive a special offer for their birthday to make them look and feel great on their special day.
One of the unique services Teddies for Bettys offers is a complimentary bra fitting, which customers can schedule online, over the phone or in person. As 8 out of 10 women are currently wearing the wrong bra size, this service has become very popular with the female shoppers. "I love the look on a woman's face when she realizes how amazing she looks in the right fit," commented Ashley, "Sometimes she's been wearing the wrong bra size for years…finding the right fit can make you look and feel empowered."
The site has links to all social media outlets, which attract and attain a successful amount of fans/followers for a fairly young business. Teddies for Bettys has nearly 1,500 likes on Facebook (https://www.facebook.com/TeddiesforBettys) and over 762 followers on Twitter (https://twitter.com/#!/teddies4bettys), which inform fans of social events, specials, and a quote of the day that usually mixes humor with beauty, intimacy, or lingerie. Ashley's blog, now integrated with the new website, highlights the life of as a loving mother, her passion for lingerie, an enthusiastic runner, and her social outings (food, drink, and friends). "We've tried to create a unique experience for the Teddies for Bettys customers by combining luxury and intimacy with a little fun, both online and in person," commented Ashley.