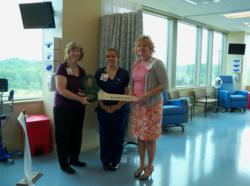 Stafford, VA (PRWEB) June 22, 2012
The latest regional Outpatient Infusion Center officially opened this week at Stafford Hospital, Mary Washington Healthcare.
Using the latest technology, the Outpatient Infusion Center will provide care for patients who need infusion therapy or injection therapy. A dedicated nurse, specially trained in chemotherapy is always available to assist patients and families. Treatments include IV therapy and injections, blood transfusions, antibiotics administration, chemotherapy administration, IVIG, Remicade, hydration therapy, cardiac/inotropic infusions, and multiple sclerosis injections.
The Center is located on the fourth floor of Stafford Hospital. The location provides a serene, comfortable room with a wall of windows overlooking the grounds. Each area is equipped with flat screen televisions.
Stafford Hospital continues to provide the services needed and accessible to the Community.
Mary Washington Healthcare is a sophisticated regional health system, reaching the community through over 30 facilities and services. Through Mary Washington Hospital, Stafford Hospital, and its other facilities, Mary Washington Healthcare provides integrated, standardized care throughout the greater Rappahannock region. Visit http://www.marywashingtonhealthcare.com.