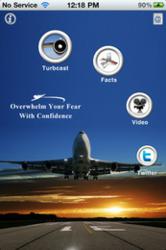 Must have travel app.
Greenwich , Connecticut (PRWEB) June 25, 2012
Turbulence happens. Now there's an app for that. Whether it's called air pockets or bumps, this iPhone app will unlock the mystery about flight turbulence while giving you greater knowledge and confidence. Developed a year ago, turbcast app reached its one year anniversary with great enthusiasm. Turbcast app is designed for those with a mild case of fear of flying and the general public who wants a better understanding of turbulence. This is a must have app for any traveler because it allows you to have the same information pilots have and it deciphers it for you. As to what other people are saying about us, the app was already featured in the USA Today Tech section in November last year. It also was rated one of the top twelve travel apps by mainstreet.com.
Since last year, we added great features to the app. The highlight of the app is a turbulence forecast for your flight. It looks at aviation weather that pilots use to give you a realistic prognostic of what to possibly expect. One can see turbulence embedded in thunderstorms as pilots see it. The app explains that there are different types of turbulence and provides self-help tips that include a video. Designed by an airline pilot, Turbcast uses a combination of aviation knowledge and NLP Neuro Linguistic Programming Techniques to help you reduce your fear of turbulence. Since its development, the app received twenty five positive reviews. The latest updates include expansion to some foreign countries. It works in the United States, U.S. territories, Canada, Mexico, Western Europe, Cuba, Trinidad, St Lucia, and the Dominican Republic. Another added feature is the ability to translate the written text from English, to Spanish, French, or German. Turbcast app is easy to use. Simply enter your departure and arrival airports along with the time zone and the app does the rest. Turbcast app works on iPhone, iPad, or iPod touch.
We have a support website for any questions about the turbcast app. Other fear of flying products developed by Simplus Technologies Group, can be found at http://www.flyinganxiety.com. The company was founded in 2004 by Eric Simmons who is the CEO and a current commercial airline pilot for a major carrier. The company's media kit is at http://www.simplustg.com. To learn more about the Turbcast app there are several videos on YouTube that you could explore.
Media contact: Eric Simmons, CEO
MD-80 Airline Pilot, NLP Practitioner
Simplus Technologies Group, LLC
(877) 787-0607, email: ceosimplus(at)aol(dot)com