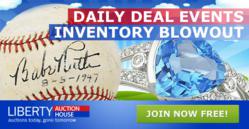 When you can't wait for a jewelry auction, the next best thing is Daily Jewelry Deals
Chicago, Illinois (PRWEB) June 22, 2012
Daily Jewelry Deals are the talk of the Jewelry industry lately for good reason. From Atlantic to Pacific, Liberty Auction House is bringing the best of the Jewelry World to your inbox everyday. The two-week campaign will focus on Engagement Rings (available June 24), gemstone jewelry (June 26) and wrist watches (June 30). Over the course of the jewelry campaign, the best in diamonds and gold will also be featured on libertyauctionhouse.com.
"Everyday Liberty Auction House Daily Jewelry Deals gets our members excited with amazing experiences and save a little money along the way" said Michael Strom, CEO of Liberty Auction House.
As the site continues to grow, more categories and jewelry brands will be added, allowing consumers enjoy the deals and savings on name brand jewelry.
Sign up is easy and quick. Once the find what you want, the consumer simply benefits: 50-90% savings on jewelry, rare coins, Stamps, Bullion, Morgan Silver dollars, and much, much more.