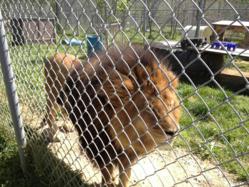 "We anticipate there will be more calls to come rescue animals from those that cannot maintain the new standards. But we cannot let another Zanesville incident happen again. A balance must exist between public rights and public safety."
San Diego, CA (PRWEB) June 23, 2012
The demands for assistance in placing exotic animals in new homes is increasing and Bobbi Brink, Founder and Director of Lions Tigers & Bears Big Cat Sanctuary and Rescue (LTB) near San Diego, Calif., is answering the call and providing aid to ailing facilities that can no longer keep up with the demands and resources needed to shelter these wild animals.
This week, Brink returns to Ohio to complete a rescue mission begun earlier this month and transfer the remaining tigers and lions from a defunct animal facility near Columbus, Ohio. Financial difficulties prevented the owner from being able to properly care for the 32 exotic animals and forced her to close her doors for good and find new homes for the animals. Brink, along with the Global Federation of Animal Sanctuaries (GFAS), and several other sanctuaries and organizations, conducted a national rescue mission to place the animals in credible sanctuaries and zoos around the nation.
"Unfortunately, this is a story that is being heard from many animal facilities and by private owners not only in Ohio but across the country," said Brink. "The costs and demands of caring for and sheltering exotic animals are high and require a great amount of resources. With the slowed economy coupled with the needed tighter regulations, many owners just can't keep up."
As Ohio prepares to implement a new law that prohibits the private ownership of exotic animals and as Brink completes the transfer of the remaining tigers and lions, she is once again called upon to help place six black bears in a new home as the owner is met with financial strains and tighter regulations.
The need for tougher laws and regulations is welcomed by Brink who has advocated for this change for over a decade. However, as the new Ohio law signed by Governor Kasich this month prepares to be implemented, exotic animal owners and facilities are faced with how to comply with the new regulations that increase the standards by which the animals are kept.
"There is no doubt we needed to step up the standards on the ownership of exotic animals," continued Brink. "We anticipate there will be more calls to come rescue animals from those that cannot maintain the new standards. But we cannot let another Zanesville incident happen again. A balance must exist between public rights and public safety."
Brink and Lions Tigers & Bears are seeking donations for the increased rescue efforts that can cost in the tens of dollars. More about Lions Tigers & Bears and donating to the effort can be found on their website at http://www.lionstigersandbears.org.
# # #
Lions Tigers & Bears is a federally and state licensed non-profit 501(c)(3) rescue facility dedicated to providing a safe haven for unwanted and abused exotic cats and other exotic animals. We are a no kill, no breed, no sell facility that allows animals in our care the opportunity to live out their lives with dignity in a caring and safe environment. Our goal is to provide a safe haven and to educate the public about the growing population of abandoned unwanted exotic animals.