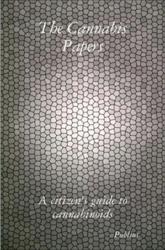 To deny Spyres and other prisoners scientific information is to deny them their First Amendment rights.
Chicago, IL (PRWEB) June 30, 2012
A science book explaining the importance of cannabinoids to human health and happiness has been reviewed and banned from the prisons of the Illinois Department of Corrections (IDOC).
The book ban came into effect in April after the publisher, Bryan Brickner, sent a copy of The Cannabis Papers: a Citizen's Guide to Cannabinoids to IDOC prisoner Jason Alan Spyres (#K99397).
Spyres is 30-years old and has served nine years of a 30-year cannabis trafficking sentence (MITTIMUS 02CF550 and 02CF1292; MACON County IL). According to IDOC documentation (attached) and pursuant to article 20 Illinois Administrative Code 525, Spyres and other prisoners may not read the book because it contains material determined to:

Encourage or instruct the commission of criminal activity
Be otherwise detrimental to security, good order, rehabilitation, or discipline, or it might facilitate criminal activity or be detrimental to mental health
Bryan Brickner, publisher and member of "Publius," the founders' penname borrowed by the authors of The Cannabis Papers, contends that IDOC is misguided: "Concerning free speech, the First Amendment of the US Constitution states that Congress shall make no law abridging the freedom of speech or of the press and that citizen's have a right to petition the government for a redress of grievances. If Spyres and other prisoners cannot receive new information, if citizen's cannot communicate new information, and if a publisher cannot communicate with citizen's in prison, then there appears to be lots of US laws abridging speech, press and the right to petition for redress of grievances."
Brickner is also author of Article the First of the Bill of Rights (2006), a book on the story of the founding and constitutional representation. He was surprised to learn the book was banned: "Well, it is the United States of America, so I didn't think the truth was that controversial – not at the First Amendment level at least."
Brickner noted that The Cannabis Papers explains how the same cannabinoids found in cannabis are made naturally by the human body, and why cannabinoids are essential to life, liberty and the pursuit of happiness.
"When the Founders protected freedom of speech in the Bill of Rights, it's clear they had situations like this in mind. Call them "liberty moments" – situations where We the People would be facing the power of We the State. To deny Spyres and other prisoners scientific information is to deny them their First Amendment rights."
The book is available at Amazon, Lulu and other online book retailers.
For more information about The Cannabis Papers, visit http://www.thecannabispapers.com.