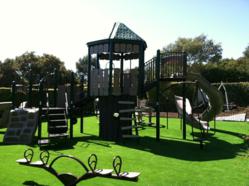 Los Angeles, CA (PRWEB) June 30, 2012
Sun Country Systems, with offices in San Jose, Chino Hills and Santa Clarita, announces the completion of another BCI Burke commercial playground equipment installation in the beautiful area of Montecito, County of Santa Barbara, California. After the Church considered many other playground companies, Sun Country Systems was chosen as the supplier with its superior design of BCI Burke Playground Equipment and overall cost of the project. This project consisted of the complete renovation of an existing play area. The old structure which was outdated was donated to a non profit faith based company, Kids Around the World, who understand the power of play in children's lives, and who have already had this structure installed in Guatemala, giving the community a much needed playground which they could never otherwise have afforded.
After the removal of playground equipment and complete site preparation, Sun Country Systems installed a beautifully designed BCI Burke play structure for ages 5-12. The highlights of the playground structure were the Viper Slides – 4 slides in all, Twist & Turn, many unique play panels, 4 Seat Rocker, Orbitron, Satellite Station, Tree Climbers and Fierce Cyclone Spinner. BCI Burke products are all USA Made and it is a leader in green technology, 100% of BCI Burke's electricity comes from wind and other renewable sources.
Surfacing for the Montecito Church was synthetic turf, provided by Ameriturf Systems (ameriturfsystems.com). The turf was chosen because of its unbeatable quality and warranty.
Current Playground Projects Now Being Designed and Installed in Los Angeles, San Diego, San Fernando Valley, Chino, Camarillo, Riverside, Imperial, Orange County, Alameda, San Francisco, Merced, Phoenix and Other Areas of Southern California, Northern California, Hawaii and Arizona.
About Sun Country Systems, Inc.
Sun Country Systems, Inc. is a commercial playground company that will design, supply and install for its customers' a complete playground area. We provide a full line of commercial playground equipment, synthetic grass, shade structures, sports and recreation equipment and site amenities. Sun Country Systems offers free design and consultations to every County in California, including but not limited to Los Angeles, San Diego, Orange, Riverside, San Bernardino, Santa Barbara, Alameda, San Francisco, Imperial, Orange, Kern, San Luis Obispo, Lassen, Placer. Additionally, Sun Country Systems services all areas of Hawaii and Arizona, including Pima, Maricopa, Yuma.
Call us today for your free design and playground estimate (877) 268-1550.