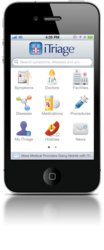 When healthcare providers like Adena put useful medical information into the palm of their patient's hands with iTriage, consumers are empowered to make informed decisions about where they will seek care for their medical condition
Chillicothe, OH and Denver, CO (PRWEB) June 24, 2012
Adena Health System is now accessible on Smartphones and other mobile devices. Recognizing that now more than ever, patients are turning to their mobile devices to find location, contact and healthcare information, Adena has launched a mobile web site with direct and easy-to-navigate information.
"By simply, going to http://www.adena.org on any Internet-capable Smartphone or mobile device, patients will be taken to Adena's new mobile web site," said Dave Trudell, Adena's System Director of Marketing and Communications. "As people turn to their mobile devices for information, Adena will be there to connect with patients when they have a medical need."
In addition, patients can learn more about specific medical conditions and Adena providers by using iTriage® – the free healthcare app offers users quick access to this information. The app provides users with hospital details such as: services provided, specialties, and turn-by-turn directions using GPS capabilities. Other services include:

Research medical symptoms and conditions;
Learn about possible causes and treatment options;
Get medication refill and appointment reminders added to personal calendars; and
Access a nationwide database of every medical provider in the country.
"When healthcare providers like Adena put useful medical information into the palm of their patient's hands with iTriage, consumers are empowered to make informed decisions about where they will seek care for their medical condition," said Dr. Peter Hudson, co-founder of iTriage.
iTriage is available as a free download from app stores for iPhone® and Android™ mobile devices, and is accessible from any Internet-enabled device.
About Adena Health System
Adena Health System is an independent, not-for-profit and locally controlled healthcare organization serving the needs of 13 counties in south-central Ohio, and employs more than 2,500 people. Adena provides specialty services typically found in larger medical centers, including: open heart surgery, cardiac catheterization, cancer care and advanced orthopedic procedures. Based in Chillicothe, OH, the health system consists of three hospitals and six regional clinics.
About iTriage, LLC
iTriage LLC, headquartered in Denver, Colorado, is a global health care technology company founded in 2008 by two emergency medicine physicians. The company's market-leading platform and mobile/Web applications offer a proprietary Symptom-to-Provider™ pathway that empowers consumers to make better health care decisions. iTriage helps people answer the two most common medical questions: "What could be wrong?" and "Where should I go for treatment?" Millions of consumers around the globe have downloaded the free iTriage mobile app on their iPhone and Android devices, and thousands of health care providers use iTriage to reach and communicate critical facility and service information to patients. For more information, please visit http://about.iTriageHealth.com.